You are here:
Welcome To Class 2: Colorized Resin on Organic Metal Beads. Buy & Try! Nunn Design Summer School!
Welcome To Class 2: Colorized Resin on Organic Metal Beads. Buy & Try! Nunn Design Summer School!
During the month of July, we are featuring a series of 6 tutorials using Nunn Design Resin on our website. Each tutorial will have a Buy & Try available, making it easy for you to purchase retail and wholesale all of the supplies necessary for creating.
So, how is Nunn Design Summer School different than business as usual? We are asking you to commit to DOING IT! How many of you have looked, read and left the comment "I've been wanting to try that." You might even have most of the supplies and have had great intentions to "set aside time." Well, that time is NOW! Join us for Nunn Design Summer School!
Because Nunn Design is the manufacturer and distributor of the many products that we offer, our education is an added service that we provide to our customers. The Nunn Design Summer School isn't just about "signing-up to learn," it is about "signing-up to commit to yourselves to create!"
commit to nunn design summer school!
---
Class 2: Colorized Resin on Metal Beads Organic
Summer School Class for July 10, 2018
The new Metal Bead Organics are super fun statement pendants, especially when you add a hit of color to them. This technique is also ideal for all of you metal stampers who have less than perfect results when stamping. Colorizing the resin and covering the bead or flat tags is a great way to salvage your inventory.
In this class you will learn:
• How to mix Nunn Design Resin
• How to add colorants to create various colors
• A cheat sheet for color formulas
---
Supplies: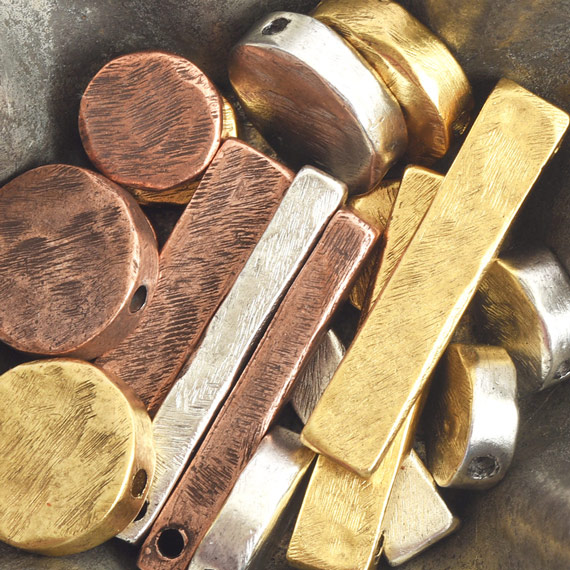 The Buy & Try Colorized Resin on Organic Beads features the newest of beads in the Nunn Design collection. Beads are cast in lead-free pewter and plated with copper, 24k gold and .999 fine silver. All of the other supplies needed for this technique are also available in the Buy & Try Colorized Resin on Organic Beads. Findings are made in the USA.
Nunn Design Supplies:
Buy & Try Colorized Resin on Organic Metal Beads
Nunn Design Organic Metal Beads
Nunn Design 2-Part Resin Kit
Castin' Crafts Opaque Pigments
Other Supplies:

Wet-wipes

Toothpicks
Stir Sticks
Mixing Cups
Business Cards or glossy card stock
Rubbing Alcohol
Plastic Bags
Q-Tips
---
Step 1:
The Nunn Design Organic Metal Beads are oxidized to provide the antique look to the precious metal plating. The oxidization, when it comes into contact with the resin, could change the color of the resin. To avoid this, clean the beads thoroughly prior to application of the resin. Dip the tip of a Q-Tip into rubbing alcohol and clean away any of the blackened oxidization from the tags surface.
---
Step 2:
I tend to work in a small area (typically my kitchen table), so I like to work on a surface that projects can be easily moved around and not disturbed. Place some business cards or some heavy card stock onto your work surface, making it easy to move the beads without getting any resin on your fingers.
---
Step 3:
Read the resin instructions for safety concerns regarding the Nunn Design Resin.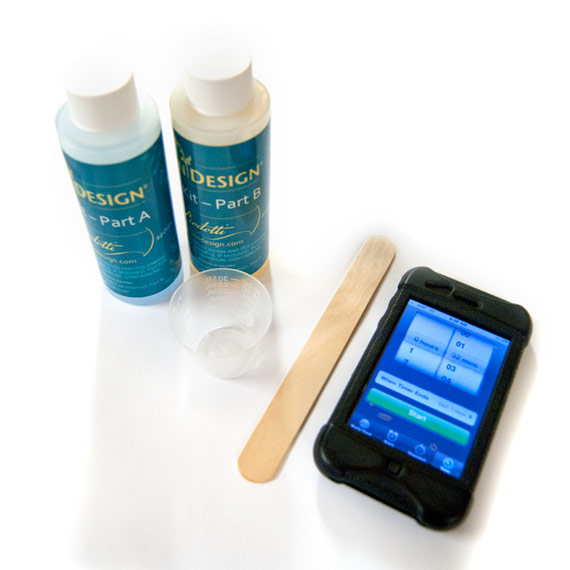 When I work with resin, I always:
Place a large plastic bag over my work surface and tape it down.
I make sure I have ventilation in my workroom.
I wear gloves.
I wear glasses (readers because I can't see anymore. Plus it protects my eyes!).
I have a pile of wet wipes handy.
This is a great blog post that covers 20 Habits for Successfully Using Nunn Design 2-Part Epoxy Resin. Even if you are a seasoned resin mixer, this might be worth a read.
You can also watch this great video on How to Mix Nunn Design Resin!
---
Step 4:
Place one cup (included in the Nunn Design Resin Kit) onto your table.
For curing purposes, it is very important that the resin be an exact 1 to 1 ratio of Part A and Part B. I suggest getting your eyes level with the resin so you can see the lines on the measuring cup.
Pour Part A of your resin kit up to the ½ fluid ounce mark on your measuring cup.
Pour Part B of your resin kit into the same cup until it is filled to the 1 fluid ounce mark. It is important to pour Part A first and then Part B. It is some chemical thing about the part A being heavier or something.
---
Step 5:
Set your timer for 2 minutes. Using the stir stick from your kit (a popsicle stick or coffee stir stick will work great too), slowly and carefully stir your resin scraping the sides as you stir. Stir for the full 2 minutes. After 2 minutes, scrape both sides of your stir stick on the edge of your resin filled cup.
---
Step 6:
For this tutorial, I'm adding Castin' Crafts Opaque Colorant White to the resin. You can mix the full 1 fluid ounce measuring cup of resin if you want, but I transfer the mixed resin into smaller cups because it is easier to stir and less messy to move around when less full. Transfer the resin to a smaller cup and squeeze a couple of drops of the white colorant into the resin. If the resin isn't as opaque as you would like, add more of the white colorant to the resin and continue to mix thoroughly.
Tip: Be sure that the colorant does not equal more than 10% of your resin as having more than 10% could cause issues with curing.
Here is another blog post that you might be interested in; How to Make 2017 Summer Pantone Colors with Colorized Resin. In this post I list formulas for mixing Nunn Design Resin with Castin' Crafts Opaque Pigments to create colors from the 2017 Summer Pantone selection.
---
Step 7:
Use a toothpick or stir stick to drizzle a small amount of colorized resin onto your Organic Metal Bead.  It is always easiest to add just a wee bit then add more, versus pouring on too much and having to clean up the overflow.
With a toothpick, pull the colorized resin to the edges of the bead. Nunn Design's 2-Part Resin is a doming resin. The resin will get to the edges and stop, but will overflow if you have applied too much to the bead's surface area.
---
Step 8:
You will want to 'babysit' your resin for the next 1 – 2 hours. If you see bubbles rising to the surface, using your hot breath, breathe on them. It isn't a "blow" sort of breath – more of a "huff" sort of a breath. The hot air will make the bubbles expand, rise to the surface and pop. As the resin starts to set-up and become thicker, it will be more difficult for the air to rise to the surface.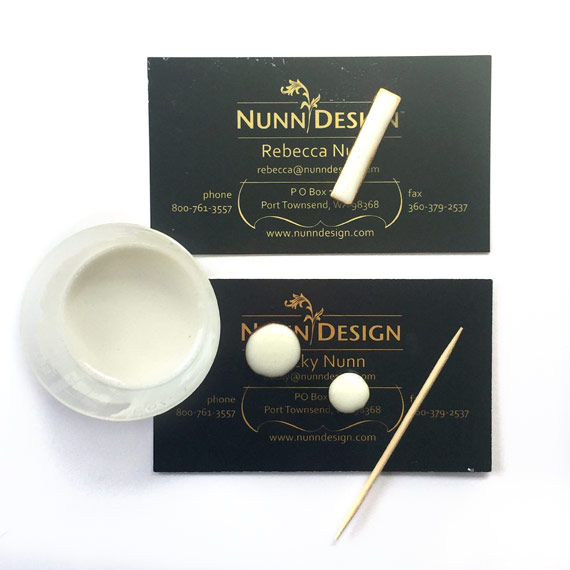 Make sure to check in on the curing resin and double check for air bubbles. If you do have some bubbles, use a toothpick to gently drag them over to the sides. This agitation process will help them to pop. When the resin is thick and taffy like in texture it is time to let it be. If you attempt to pop bubbles at this time, you may end up with a gooey mess.
---
Step 9:
Let the resin cure. It will start to be hard to the touch as early as 12 hours, but the resin will continue to cure up to 72 hours.
---
Here are some additional Trouble Shooting Tips!
TIP: If you have resin that has over poured and flowed off the beads and onto the card, let it go. Wait about 6 hours until the resin is at its "soft cure" phase. It will be easy for you to trim away the overspill by cutting it with scissors or flush cutters, or to peel it off the sides.
---
Watch Video:
Here is a tutorial video where I talk you through the process!
---
Shop the Buy & Try!
With each of our Nunn Design Summer School Tutorials, all of the supplies you will need are available for you to purchase. Make sure you are signed-up for summer school so that you can receive the coupon code* good for the "free goodies."
*Coupon is good for one free goodie per student per class
shop Buy & Try Colorized Resin on Organic Metal Beads Supplies Retail
Shop Wholesale:
---
For Wholesalers:
For our registered wholesale customers, there are a couple more things to consider when purchasing Buy & Try's. The Nunn Design Summer School Buy & Try is good through the month of July 2018 only. After July, the Buy & Try items will still be available, but the minimum will not be waived and the mixed findings packs will not be available.
Minimum wholesale quantities for "Buy & Try" items are waived, allowing you to receive the lowest tiered price possible.
No need to purchase a wholesale minimum order of $100.00 on "Buy & Try" Summer School purchases. You can add these items to your cart and check out with just the items you will need for a day of creating!
"Buy & Try" items cannot be combined with other wholesale products. 
Sorry it may be a bit confusing, so email Cheryl at Cheryl@nunndesign.com if you have any questions.
---
If you enjoyed reading this post,
please subscribe to our blog.
Here are 10 Reasons Why to Subscribe
and a place to do so!
You may also like to read: