UPDATE: This post has gotten a lot of love over the years, so we are re-sharing it!
I've really enjoyed my exploration of adding colors to the Nunn Design Findings. It adds a look of "handmade" – this is a quality I think is really important when creating jewelry that you want to be one-of-a-kind. Here are some inspirational ways to incorporate color.
---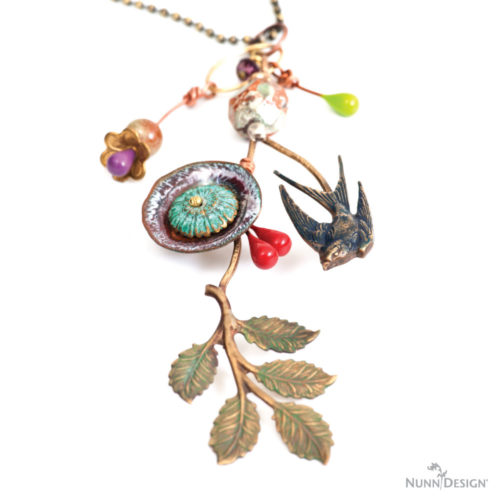 Designer: Past Innovation Team Member Karen McGovern
---
Designer: Becky Nunn
---
Designer: Nunn Design Shipping Diva Haylee Troncone
---
Learn How!
Here are 10 way to learn how to add colors to metals.
1. Colorizing Metals with Swellegants
This blog post by Heather Powers of Humble Beads is killer! Swellegant Tips and Color Formulas! I love her patina chart featured here. On her blog she provides us with the formula for creating each of these amazing finishes. This woman really put some time into this post!
Learn about Swellegants from Christi herself in this video. She is talking about using the Swellegants on polymer clay, but there is great information here that applies to metals too!
---
2. Colorizing Metals with Mica Powder and Nunn Design Sealant
This is a super simple and quick way to add color to metals. In this video I created for Beadaholique, I walk you through how easy it is to add Mica Powders to Nunn Design Sealant and paint it onto brass stampings.
---
3. Colorizing Metals with Colorized Nunn Design 2-Part Resin
Adding to your metals resin that has been colorized with Castin' Craft's Opaque Colorants provides an enamel like look and a pop of color.
---
4. Colorizing Metals with Nail Polish
A quick and easy way to add color to metals is by adding fingernail polish. Gail Crosman-Moore addresses this in her blog post; Learn 6 Ways to Add Color To Metal featured on Jewelry Making Daily's Blog.
---
5. Colorizing Metals with Alcohol Inks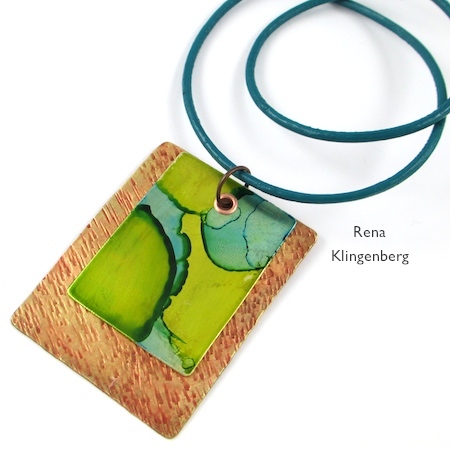 Rena Klingenberg walks you through a tutorial on Jewelry Making Daily's Blog using alcohol inks to colorizing metals. This looks very doable. Coloring Metal with Alcohol Ink Tutorial
Caroline at Blueberribeads Blog also used alcohol inks on her etched pieces.
---
6. Colorizing Metals with Soft Solder
I have been exploring using soft solder on the Nunn Design Copper Findings. It totally works!! I'm totally smitten with soft soldering. To learn more about soft soldering, check out this blog post on Jewelry Making Daily about a new book that Laura Beth just released titled; Solder Alchemy.
---
7. Colorizing Metals with Heat
I just took a class with Mary Hettmansperger at Bead & Button. I'm looking forward to getting this book. Mary covered so many great ideas on ways to add color to metals in her class that I was a little panicked that I wouldn't remember! Heat, Color, Set & Fire: Surface Effects for Metal Jewelry
I haven't seen this PDF tutorial that is on sale by Payton Jett, but I sure love the look that she is creating on metals!
---
8. Colorizing with Mica Powder and 2-Part Resin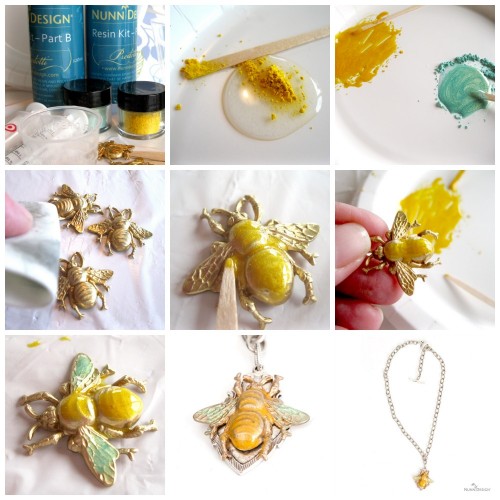 Innovation Team Member Stephanie Gard Buss creating this great downloadable tutorial showing how easy it is to mix Mica Powders with 2-Part Resin to create color on resin. Tutorial: How To Colorize Nunn Design Resin with Mica Powders
---
9. Colorizing Metal with Colored Pencils
I like this tutorial by Francesca Watson on Art Elements. She is a funny writer! Coloring on Metal
Jill Erickson did this fun video for Art Jewelry layering colored pencil on copper.
How to Color Copper Metal with Color Pencils for Jewelry
Susan Wade teaches a color on copper class too. I really enjoyed the classes I have taken from Susan at Bead & Button.
---
10. Colorizing Metals with a Natural Patina
Good Grief Girdie creates a patina with apple cider vinegar and sea salt.
---
Shop The Supplies!
To create some of these above techniques, here are some of the products that Nunn Design offers to help you add color to metals.
Swellegants! Sorry, we aren't offering this anymore, but you can buy it directly from Christi here
UPDATE: As we are closing out technique products from our product line, we have been asked for suggestions on other products that we would recommend. Please take a look at this blog post for alternative suggestions for Nunn Design 2-Part Resin, Crystal Clay and other items.
---
Shop Nunn Design Wholesale
Nunn Design has been supplying jewelry artists with findings for over 20 years. Shop wholesale jewelry findings for creative jewelry makers.
Shop Nunn Design!
---
How to Purchase Wholesale?
If you are interested in becoming one of the many designers who trust their jewelry to Nunn Design Findings, please join us by registering to become one of our wholesale customers!
Please visit our Where to Buy Page for a listing of online stores that sell Nunn Design Findings retail.
---

If you enjoyed reading this post, please subscribe to our blog. Here are 10 Reasons Why to Subscribe and a place to do so!