This has been a big resin tutorial year here at Nunn Design. We all hope that you have been inspired by all that we have offered.
Let's do a recap of 10 resin tutorials featured this year!
---
1. Make Sculpted Crystal Clay using a Silicone Mold with Colorized Resin Overlay!
Create dimensional molds with 2-Part Silicone Molding Putty to make a sculpted Crystal Clay impression. Once the clay is cured, mix and colorize some Nunn Design Resin to create really beautiful bezel pendants.
---
2. Make Sculpted Resin using a Silicone Mold
Create dimensional molds with 2-Part Silicone Molding Putty to make a sculpted resin focal.
---
3. Make These with Colorized Resin & Transfer Sheets
Although we have done several tutorials and videos on how to use resin and transfer sheets, we have not yet done this exact combination of techniques. In this tutorial, we will be using an open back bezel, translucent colorized resin with a transfer sheet. A couple of different tweaks and such a different look as a result!
---
4. Make These with Crystal Clay, Skeleton Leaves and Nunn Design Resin
This is another one of those simple tutorials that creates such great results! The details of the skeleton leaf really make this project, and it is a great starting point for other organics too!
---
5. Make These with Colorized Resin, PearlEx Powders & Organics
This tutorial was inspired by the look of dendritic quartz and dendritic agates.  What is so fun about this technique can also cause some resin creators a little anxiousness. There are no two pieces that will look just alike!  If you are looking to exploring resin, then this technique is just up your alley.
---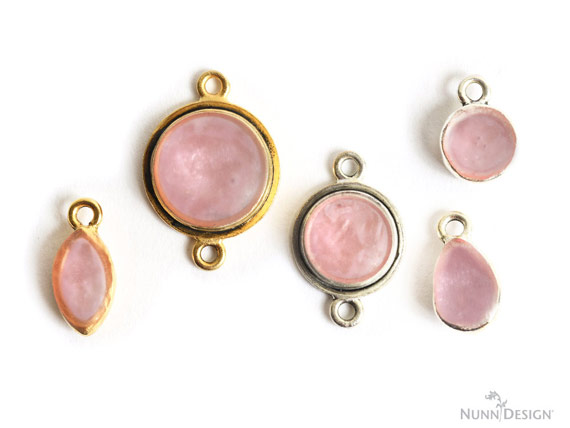 6. Make These with Crystal Clay, Mica Flakes & Colorized Resin
I was curious about how to create more of a reflective quality in my resin pieces. By applying a layer of Crystal Clay and embedding Mica Flakes prior to pouring the colorized resin into the bezel allowed for a more reflective pop to the resin. Once the resin has cured, the resin is gently sanded to provide the dull matte finish. The overall results? I think they are stunning.
---
7. Crystal Clay, Jacquard PearlEx Powders & Colorized Resin
I am thrilled with how these pieces look! I knew I had a winner when we were asked over and over again, "do you also sell the stones." This look really has a high-end feel, yet is fairly simple to execute.
---
8. Marbleized Resin with Transfer Sheets
Learn how to create a marbleized resin effect using Nunn Design 2-Part Resin, Gilding Flakes, and Nunn Design Transfer Sheets. The results will look very different than traditional colorized resin.
---
9. Resin Filled Pendants in Wire Frames!
Learn how to use Jacquard PearlEx Powders and Nunn Design Resin within a Wire Frame.
---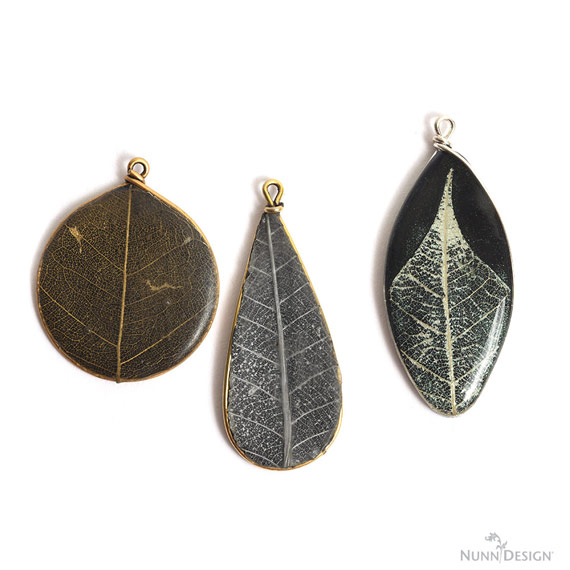 10. Crystal Clay, Skeleton Leaves and Resin within Wire Frames Tutorial!
---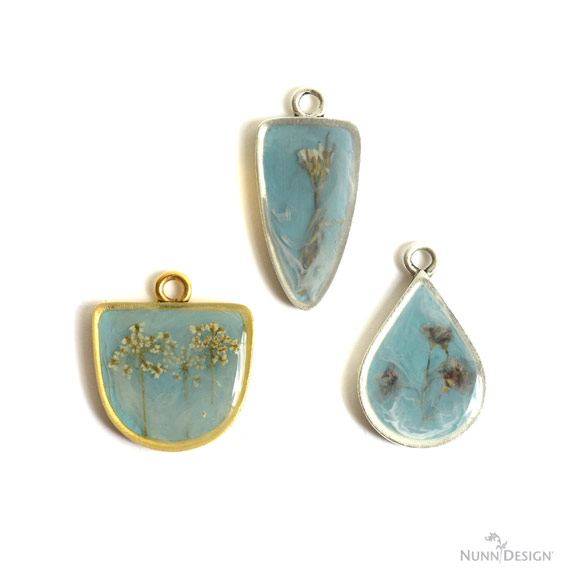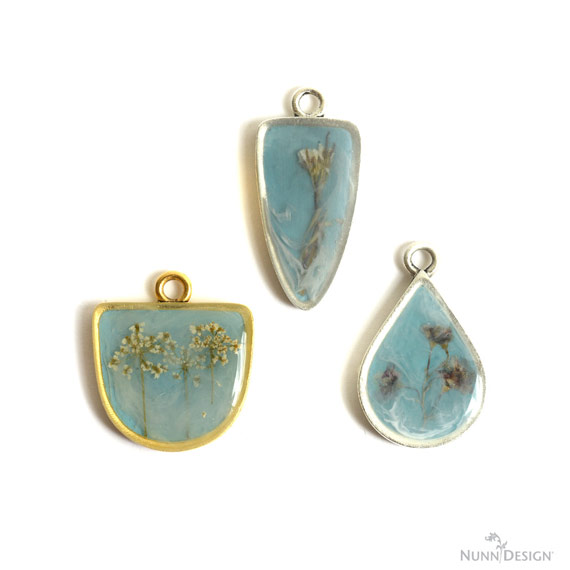 11. Colorized Crystal Clay, Organics and Colorized Resin Tutorial
The motivation for this technique was to make it easier for the maker to create fabulous pendants with a more streamlined process. By using colorized Crystal Clay in the base of the bezel, then applying the organics, only a single pour of resin is required!
---
12. Create Texture with a Silicone Mold, Colorized Crystal Clay, PearlEx Powdered Pigments and Nunn Design Resin
Learn how to create interesting textures into colorized Crystal Clay to make fabulous focal pieces!
---
13. Organics & Nunn Design 2-Part Resin in Open Back Hoops
Using an open back hoop as opposed to a bezel is a fun way to create organic resin jewelry. In this
---
We hope that you have enjoyed our year of resin exploration. We have all learned a lot. Do you have a favorite?
---
Shop Nunn Design Wholesale
Nunn Design has been supplying jewelry artists with findings for over 20 years. Shop wholesale jewelry findings for creative jewelry makers.
Shop Nunn Design!
---
How to Purchase Wholesale?
If you are interested in becoming one of the many designers who trust their jewelry to Nunn Design Findings, please join us by registering to become one of our wholesale customers!
Please visit our Where to Buy Page for a listing of online stores that sell Nunn Design Findings retail.
---

If you enjoyed reading this post, please subscribe to our blog. Here are 10 Reasons Why to Subscribe and a place to do so!