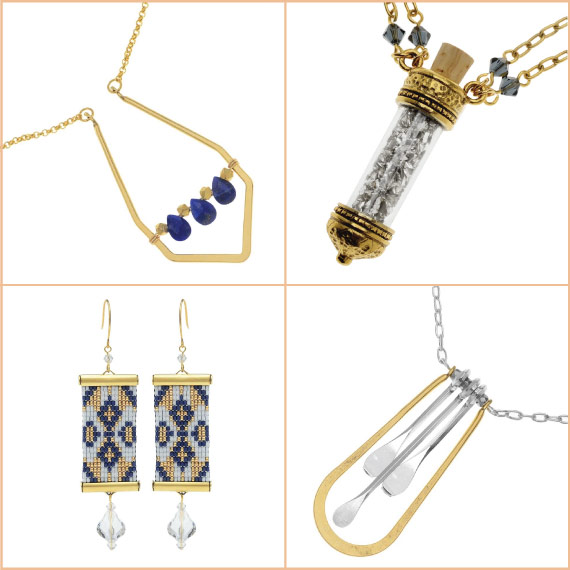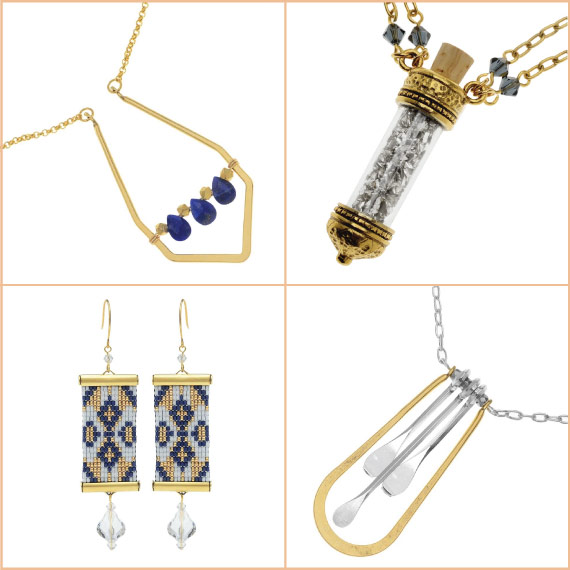 I feel so fortunate to be in an industry where there is so much inspiration that you can access free of charge. Although many of our designers don't create projects JUST like the ones seen on our website, they can be inspired by how a jumpring was used in a different way or by various color combinations. Regardless of how you are inspired, we hope that these projects from Beadaholique.com will spark a creative solution for you!
---
These Claudia Earrings, by Kat Silva, really highlight the beauty of the Strand Reducer Filigree 2 Loops and the Ear Wire Lever Backs! Great earrings Kat!
---
It is fun to see how Julie Bean, of Beadaholique, dangled chain in the gap of the Wire Frame Open Oval Point Large. Julie also created a video of the making of this Alejandra Necklace. Great video Julie!
---
I'm crazy about any sort of "cluster" look – like Kat Silva created in this Harmonious Howlite Necklace. Kat used the Wire Frame Large Drop for the focal here.
---
Kat also created a simple focal using the Mini Link Square Single Loop and Rhinestone Chain 24pp for this easy, yet elegant Dance Floor Necklace. Check out Kat's video tutorial!
---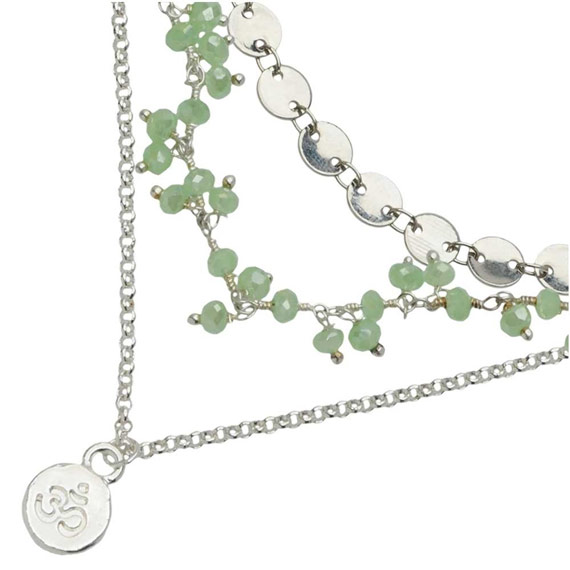 Julie created this tiered Emilia Layered Necklace with the Charm Itsy Spiritual Ohm as the focal.
---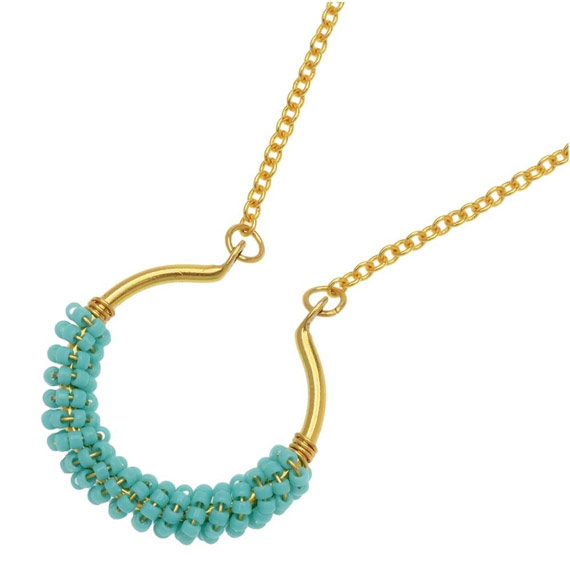 I'm also crazy for anything gold and turquoise! Rachel Zaimont did a great job on this Tal Necklace featuring the Wire Frame Open Circle Large Double Hole. Watch the making of a related piece here.
---
Beadaholique has a series of great loom kits that feature the Ribbon Ends. You can see Kat making this pair of Tortuga Earrings here.
---
I really like how Julie used the Ring Hammered Thin as a connector in her pair of Little Night Owl Earrings. Watch Julie make this pair of earrings here!
---
Just when you think you have thought of every combination of how to use the Wire Frame Open Horseshoe Long and Paddles, boom…there is something else to be inspired by! Learn more about this necklace Julie made on their site: Paddle Necklace.
---
How fun are these Chevron Dagger Earrings featuring the Flat Tag Mini Arrowhead from Nunn Design!
---
This Lapis Lazuli Diamond Pendant Necklace is a super simple, yet oh so elegant necklace using the Wire Frame Open Diamond piece from Nunn Design.
---
Julie created this great focal using the Itsy Keepsake Pendant in her Althea Necklace!
---
Karlin created these elegant Deco Dahlia Earring dangles using the Flower Crystal Charm as her focal.
---
The beadwork on the Bangle Bracelet Channel 1" by Megan makes me want to make one too! See, this stuff is inspiring. Learn how Megan made this Laura Bangle here!
---
I could keep going! The Team at Beadaholique is filled with great designers to inspire you. Take a look at all of the their projects (including some great projects featuring items they no longer stock!) on their website at: www.beadaholique.com
---
Shop Nunn Design Wholesale
Nunn Design has been supplying jewelry artists with findings for over 20 years. Shop wholesale jewelry findings for creative jewelry makers.
Shop Nunn Design!
---
How to Purchase Wholesale?
If you are interested in becoming one of the many designers who trust their jewelry to Nunn Design Findings, please join us by registering to become one of our wholesale customers!
Please visit our Where to Buy Page for a listing of online stores that sell Nunn Design Findings retail.
---
If you enjoyed reading this post, please subscribe to our blog. Here are 10 Reasons Why to Subscribe and a place to do so!