Embedding organics into 2-Part Resin can cause air bubbles or a tacky resin surface that never fully cures if the embedded items are not prepared properly. Learn how to prepare organics such as flowers, seeds and shells to embed into Nunn Design 2-Part Resin with these 6 simple how to tips.
---
Tip 1.  Dry your Organics with a Silica Gel
Drying your organics with a silica gel allows for the moisture in the flower or plant to be removed without altering the color. Bubbles that occur in 2-part resin are often caused by moisture in the organics. Most flowers can be dried within 2-5 days (there is a chart included in the package that states how long various flowers take) and also included in the packaging are methods for speeding up the drying time by placing the silica gel in the microwave. Silica Gel is non-toxic and very fine so it doesn't damage your organics and is reusable. To use the Silica Gel, find a tub or a Tupperware container that has a lid. Sprinkle in a layer of gel into the base of the tub, then lay in your organics and sprinkle on another layer. Build up layers until your tub is full. Wait the required amount of time on the packaging for the organics to dry. To remove the organics, take a large plastic bag and slowly start to sift out your organics. Follow the instructions on how to reuse your silica gel by drying and storing it.
Here are some of my dried organics, stored in a tub and ready to be created with.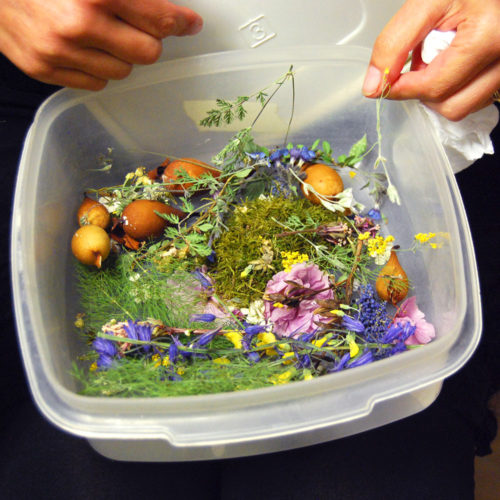 ---
Tip 2.  Air Dry your Organics
I really like the look of dried flowers. I like the aged look that comes as the flower naturally dries and the color changes. I also like the look of a rose bud slightly withered. It looks beautiful to me. To air dry, I like to place my organics on the windowsill where it can have a lot of exposure to the natural sunlight. I live in the Pacific Northwest where we have a moderate level of humidity, so I'm not sure what is going to happen on your windowsill in Florida! You will have to give me a full report, but for us, it takes 2-3 days depending on the amount of sunlight.
---
Tip 3:  Spray your Organics with a Resin Spray
I have gotten in the habit of spraying all my organics that I embed in resin. I'm not really sure if this is totally necessary, but honestly, if I'm going to spend a bunch of time mixing and pour resin, I want to take any and all precautions to make sure I have great results. I place my organics in a cardboard box with high sidewalls and head outside when it is time to spray. The Resin Spray is very fast drying, easy to apply and will seal your organics nicely. Sealing the organics will prevent the resin from absorbing into the organics, causing the flowers to darken. Sealing with Resin Spray can also prevent any moisture from coming in contact with the 2-Part Resin. We know what moisture does! It causes bubbles!
---
Tip 4:  Coat with Nunn Design 2-Part Resin
Another way to prepare your organics is to coat them with Nunn Design 2-Part Resin before you even embed them fully into your resin filled creation. Even when I have dried and sprayed with a resin spray, I have still had issues with bubbles. This typically occurs when I'm working with a piece of bark from a branch, a shell or from a bud of a flower. These are all places where air can get caught in a little pocket and won't emerge until submerged into resin.

Screenshot from video done with Beadaholique
Watch a Video!  How to Incorporate Organic Matter into 2-Part Resin by Becky Nunn
---
Tip 5: Use the Nunn Design 2-Part Resin to Anchor your Organics
Another way to embed your organics into resin and to prevent unwanted junk happening is to anchor the organics into the resin. This can be done by pouring a wee bit of resin into a Nunn Design Bezel, an open framed bezel or within a Keepsake Pendant then adding the organics. By pouring a wee bit of resin in first, placing in your organic and then letting that cure before filling the bezel full of 2-part resin, allows you to cement your organics into place. This prevents the organics from moving around and floating to the surface.
Here is a piece filled only part way with resin and fully cured, and then I added more resin to finish it off.
---
Tip 6:  Drizzle Your Resin onto the Organics and Go Slowly!
When you use your stir stick to slowly drizzle resin into your bezel and over your organics, you give the resin the opportunity to off gas and for the air bubbles to naturally pop. It also allows you to control your resin pour preventing spillage and all that unwanted messy clean up action later. Before you have fully filled your bezel or Keepsake Pendant with resin, take a moment to poke around in the resin hopefully dislodging any air bubble that could have been trapped. If any air bubbles do rise to the surface, breathe on your resin. The hot air from your breath will make the air bubble expand and pop.  When you are done poking about, drizzle more resin into your bezel bringing it up to a high dome of resin. Tip: Place your bezel on a business card prior to filling your bezel with resin. This will allow you to easily move your bezel with less risk of the resin spilling.
See all of these tips and more in this video!
---
I hope these 6 tips on how to prepare and embed organics in Nunn Design 2-Part Resin will help you have a successful pour of resin. BUT, at some point, if you want to embed organics into resin you will need to accept that bubbles happen.
---
Shop Supplies Wholesale:
---
Shop Nunn Design Wholesale
Nunn Design has been supplying jewelry artists with findings for over 20 years. Shop wholesale jewelry findings for creative jewelry makers.
Shop Nunn Design!
---
How to Purchase Wholesale?
If you are interested in becoming one of the many designers who trust their jewelry to Nunn Design Findings, please join us by registering to become one of our wholesale customers!
Please visit our Where to Buy Page for a listing of online stores that sell Nunn Design Findings retail.
---

If you enjoyed reading this post, please subscribe to our blog. Here are 10 Reasons Why to Subscribe and a place to do so!