(source: cecileibovitz.com)
When my mother was grieving the loss of her husband of 65 years, she decided to create a teddy bear for herself with one of my father's shirts. The bear sits on her bed and I know the whole process of creating something from my father's shirt gave her much comfort in those weeks after his passing.
When I read the story behind Ceci Leibovitz's Jewelry, I knew that her jewelry had a great purpose besides being beautifully handcrafted. Ceci creates fabric memory necklaces that honor important events, milestones and people – they are sweet reminders and givers of comfort, keeping memories close. Whether it be a wedding keepsake necklace, a baby memory necklace or a memorial necklace, Ceci is creating wearable art with meaning.
After losing her partner of nearly eighteen years to cancer in 2018, Cecilia found solace through a new chapter in her work… "As we went through Michael's clothing, amazingly my children and I felt almost as if he was there with us. I instantly wanted to help others experiencing loss to be able to carry comfort like this along with them, through my fabric jewelry."
Creating attractive custom necklaces to honor people, places, and relationships is the mission behind Ceci Leibovitz's Jewelry. A mission that I think all of us can support!
I caught up with Ceci in her Vermont studio to ask her a couple questions about her love of textiles, her creative process and a day in the life of running a small business.
---

(source: @ceci_leibovitz)
Becky:  You have always had a love for textiles. Where did that love first begin?
Ceci: My mother had a knack for mixing up antique and modern furnishings; she preferred and insisted on natural fiber textiles in everything from bed sheets to the clothing we wore. I was exposed to all kinds of interesting and high-quality textures, prints and design possibilities from birth. As a teenage art major at Beach Channel High School in Rockaway Beach, NY, I found myself one day experimenting with oil pastels; rather than simply drawing with them I was smashing them into the paper so that I could create a thick texture. Texture is why I love fabric, the feel of it, but also the way it takes on color and how colors and designs can look so different depending on what type of fabric they are on. The importance my mother placed on the textiles that surrounded us, play a large role in my love and appreciation for fabrics. The exposure I had to a large array of art materials and techniques as a high school art major, even though textile arts were not a part of this, further influenced my preference for working with fabric. After I graduated from High School, until much later in life, I did not formally continue my art and design studies beyond a college art class or two. I was an independent artist and when I could find the time I worked with paper; I ripped up little bits of color from magazines and used these scraps of paper in place of paint in my self-portraits and abstract art pieces, layering them thickly to create texture. I think it is only natural that I eventually moved from paper to textile arts because this afforded me the opportunity to play with texture even more. I began with embroidery, fabric beadwork and silk ribbon-work, then I studied millinery at the Fashion Institute of Technology. Millinery (hat design and making) gave me a great "canvas" on which to apply the decorative techniques I'd learned. I found that I enjoyed the details involved in playing around with fabric, such as embroidering little flowers, applying beads, etc, much more than making hats; this led me to stop my millinery work and replace it with embroidery and fabric jewelry making. For a while I was employed by Ralph Lauren, working in the home collection and being surrounded by so many magnificent textiles further influenced me to get my fabric jewelry collection going!
Becky:  Although you studied art in high school, you majored in English in college. What influenced that course of action in your life?
Ceci: I have been a creative writer since the age of six when my mother first enrolled me in children's poetry workshops at St. Mark's Church in New York City; she was a poet and really encouraged me to write from a young age. I dreamt of becoming a textile designer while I was a high school art major, but ultimately I did not enroll in art school. I think I was worried that art would not be a practical or serious enough subject as far as future work prospects. I've often wished that I had gone to art school, but I've also realized that being self-taught in many aspects of my work has given me a unique perspective and approach, as well as the life experiences contributing to this. I started out taking a bunch of classes that would fulfill basic requirements for my undergraduate degree and found myself signing up for more and more English classes, simply because I loved them. I really didn't consider my career when I decided English would be my focus; it was just that I'd taken more classes in this subject than anything else! By the way, I minored in film studies.
Becky: Are their specific fabrics that you enjoy working with more than others?  Which ones and why?
Ceci: My favorite fabrics to work with are made of natural fibers. I especially enjoy silk because it feels nice in hand and it takes on color so well, resulting in a brilliant look. Working with lace is a treat and something I get to do when creating my custom wedding memory pendants. Lace is a fun and incredibly creative fabric in my jewelry making because it allows me to find hidden motifs that I can really make pop on a solid color background; it is a traditional fabric, but can be so fresh and modern, and also satisfying when worked with in miniature. When I receive custom orders for my wedding memory necklaces, I get just a small bit of lace to work with, provided by the client; I never know what I'm going to get and that bit of mystery and having to work with what I have intrigues me and inspires me. I love that I can take a tiny swatch of lace, even something I might find in a pile of scraps tossed aside in my studio, destined for the trash bin, and turn it into the focal point of a necklace, that sees the light of day and will be admired for many years to come.
Becky:  Can you share with us one of your favorite custom pieces that you created?
Ceci: Recently I created a memorial necklace for a woman who lost her dad to cancer; it was made from a swatch of fabric from one of his shirts and given to her grandmother so that she could have a memento of her son to keep close. I encouraged the client to send me a button along with the fabric swatch. This was the first piece I was to make with a button and it became my favorite. The feeling of intimacy evoked by that one small touch, the button, blew me away. The necklace took on an endearing quality that is difficult to put into words.  (Note: I included a snapshot of the necklace for you. Unfortunately, I don't have a better quality image).
Becky:  Do you have a preferred social media venue to market your jewelry?
Ceci: I love the aesthetic of Instagram and the fact that it is so simple and quick to use. I also really like posting jewelry updates on my personal Facebook page, which gets much more exposure than my business page there. I try and limit myself to no more than one business post a day on Facebook, so as not to overdo it since most people are there for sharing non-business updates.
Becky:  Have you ever been nervous about creating with a piece of fabric that someone has sent in?
Ceci: I receive very small swatches of fabric for my custom pieces, usually no more than two or three inches square. Because of the small size, sometimes I worry that once I cut into a client's fabric, I may not be able to find another motif as interesting as my first choice. I usually take some time looking over the fabric and think for a bit about which section of it will look best. Then I have to take the plunge and just do it!
Becky:  What would you say your biggest challenges are in running a small business?
Ceci: I love making jewelry every day and I feel I would be happy doing it the rest of my life. I love spontaneity and the freedom of being able to say ' I had this dream last night in which I designed an amazing new necklace and today I'm going to try and make it.' I have been running my own businesses since the age of twenty-one and have always struggled with keeping my work tightly scheduled. Rather than getting them out of the way first thing, I often find myself putting off the less fun things, like paperwork. Ultimately, I guess this is okay because the work is finished in the end, but I would like to become more disciplined and set blocks of time in which to finish each task of the day. I imagine that being more scheduled would lessen stress over the more unpleasant work.
I can be slow in letting my designs go out into the world, needing to step away sometimes for a couple of weeks, then come back to a collection and add more, or take away. I suppose this is a natural process for a designer, but I do wish I could be faster at it.
Becky:  Your story of grieving your partner of 18 years has been a beautiful one.  How do you feel your art and business has helped you since his recent passing.
Ceci: I think that my art and business helped me most when Michael began to become seriously ill with cancer. I was watching him deal with an immense level of pain and a quick decline with a very aggressive and fast-growing tumor. There were times when he would collapse and I would catch him. This was incredibly traumatic for me, as each time he was unresponsive and I thought he had died in my arms. My work was a much-needed escape from day to day life and I found it was like a meditation, during which the awareness of what was happening with Michael was not at the front of my mind. Of course, it would all come back once I stopped working, but I don't know how I would have coped otherwise. About a week before Michael passed away and we decided he would enter hospice, I decided to put my business on hold, not quite believing, but knowing that it was coming and that I had no idea what it might be like to try and work after he was gone. I knew that it was important to give myself time to grieve and do little else in the beginning, and I'm glad I made the decision to do that.
Becky:  Why do you trust your precious keepsakes to Nunn Design Findings?
Ceci: I was searching for quality American made jewelry findings a couple of years ago and was pleasantly surprised to find Nunn Design! What stood out to me right away is that each item evoked a good and nostalgic feeling in me – the passion behind the designs was so apparent to me;  each had the look of being one of a kind, made especially for the wearer. I find there is a timeless quality to Nunn Design jewelry findings which somehow possess a feel of traditional handcraft, yet simultaneously a fresh and modern look that does not compete with my materials or style. I was so happy from the start, with the excellent quality of the findings; they are sturdy and well made, the finishes are beautiful and it is obvious in the tiniest of details that no shortcuts are taken in production.
---
Here are some samples of Ceci's beautiful jewelry:

(source: cecileibovitz.com)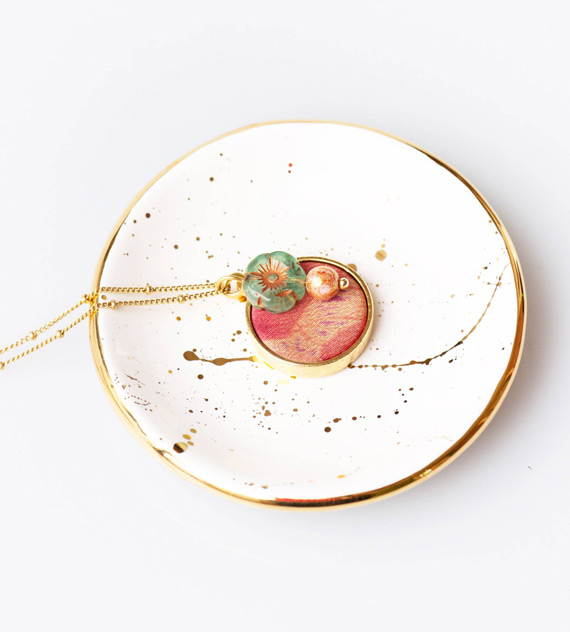 (source: cecileibovitz.com)

(source: @ceci_leibovitz)

(source: cecileibovitz.com)
---
See more of Ceci's Work!
---
Let us Feature You:
Would you like to be featured on the Nunn Design Blog? Please email me at becky@nunndesign.com.
---


If you enjoyed reading this post,
please subscribe to our blog.
Here are 10 Reasons Why to Subscribe
and a place to do so!
---
Shop Nunn Design Wholesale
Nunn Design has been supplying jewelry artists with findings for over 20 years. Shop wholesale jewelry findings for creative jewelry makers.
Shop Nunn Design!
---
How to Purchase Wholesale?
If you are interested in becoming one of the many designers who trust their jewelry to Nunn Design Findings, please join us by registering to become one of our wholesale customers!
Please visit our Where to Buy Page for a listing of online stores that sell Nunn Design Findings retail.
---

If you enjoyed reading this post, please subscribe to our blog. Here are 10 Reasons Why to Subscribe and a place to do so!