I was delighted to discover the artwork of Samantha Stott of On We Go. Samantha was born and raised on the Canadian prairies and moved 4 years ago to the west coast of beautiful British Columbia. She creates modern hand embroidery and appliqué folk art inspired by the world around her from locally sourced materials including wool blend felts, vintage fabrics, vintage glass beads and cotton threads. Samantha has a bachelor of fine arts from the University of Saskatchewan, is a dedicated artist, wife and mother of two teenagers.
I am grateful that Samantha made the time to create some amazing felt pieces using the Jewelry Kits for Embroidery and to answer a couple questions about her creative life.
---
Becky:  How has your bachelor of fine arts influenced your modern hand embroidery and appliqué folk art.
Samantha: Studying for a Bachelor of Fine Arts gave me exposure and hands on practice in many mediums of art, including drawing, painting, sculpture and even welding! My studies taught me to think about my art, and to keep sketch books of ideas and revisions so I can go back and revisit these ideas at a later time. My sketch books show me common threads throughout my work over the years and connect the dots for me, uncovering why I make what I do, and teaching me more about myself.
Becky:  Your husband Christopher @xmarksthestott is also amazingly talented. How is it having two artists in the family?
Samantha: It's a real roller coaster! Just kidding. Having two artists in the family, actually 3, my 14 year old is an artist as well. It's really great. I met my husband in first year painting class 18 years ago and we've been constantly making art ever since. Our first home together was a tiny bungalow, we were both in university and we had two tiny children under the age of 2. We converted our living room into a studio. We painted side by side listening to audio books while the kids napped. We now have two awesome teens, a bigger home, with a normal living room, and the art making is still constant. Chris has his in home studio, and I work in the living room, listening to jazz music, sipping coffee in a sunbeam with my dog by my side.
Becky:  How do you balance your creative business and raising two teenage children?
Samantha: It's challenging. I want to be there to support their needs, but also show them I have a fulfilling life of my own as well. I also work outside the home at a part time job which I find very enriching. So on my days off I am balancing domestic life and all that encompasses, plus trying to get in a little creating time of my own. On a good day I get in 2-3 hours of stitching in spurts interrupted by life at home with two teens who have always homeschooled, which adds another layer since they are not away at school all day.
Becky:  How do you market your work?
Samantha: I market my work through Etsy (samanthastott.com). I've had my Etsy shop for 3 years now and I also use Instagram, and find that some of my posts drive traffic to my shop, which is great! A year ago I started selling my work at Side Street Studio here in Victoria. They are focused on handcrafted goods by local British Columbia artists. The exposure of an actual brick and mortar shop has been really great!
Becky: Are there aspects of running a creative business that you would prefer NEVER to have to do? What are they and why?
Samantha: I don't love photographing my work and making listings to sell each item. I would prefer to just create, but marketing is a huge part of it all, so I had to learn to just do it.
Becky:  Have you ever had any difficult customers that you have had to deal with? How did you handle the situation?
Samantha: I have had a difficult customer. For me, the best approach is to very positive and resolve the issue in a way that makes the customer most happy. Even if that means a full refund! Good reviews are key to getting people to purchase from you. One bad review among 100 good reviews can turn people off sadly.
Becky:  Do you yourself have a trailer? Or a VW Van?
Samantha: I do not have a trailer, but my dream is to have my little studio in a Boler, with CBC on the radio and a coffee maker brewing hot coffee and my dog sitting on my lap while I'm stitching. A little sanctuary to go to.
My family owned a VW Camper Van when I was a child. 5 kids and 2 adults would pack into it each summer going to all the folk festivals across the Canadian Prairies in the 1970's and early 80's. I loved that Westfalia with the pop up top that became a bed/play area. The little kitchen with the curtains on all the windows and matching cushion seat fabric in it's orange and brown floral 70's awesomeness.
Becky:  How do you typically create? Do you tend to work in creative spurts and do a collection of pieces and then move on? Or do you create every day?
Samantha: I work in creative spurts. I might be watching a show or reading a book and I will be hit with an idea. I need to stop and record this idea in my sketch book. Draw it out, add the colors I'm thinking and write anything about it that's in my head. I may be working away at keeping my stock full, but get side tracked by an exciting new design and I have to stop what I'm doing and make that instead. I try to create everyday, even if that means for only moments.
Becky: Did you enjoy working with the Jewelry Kits for Embroidery? Why?
Samantha: I loved working with the Nunn Design Jewelry Kits! Thank you for the opportunity. I have been thinking about jewelry settings for some time, so this was the creative push I needed. I'm so impressed with the quality and the simplicity the kits offer with the bezel insert for easy mounting. Working with Nunn Design Jewelry kits have opened up a whole new format for my art!
---
Be Inspired!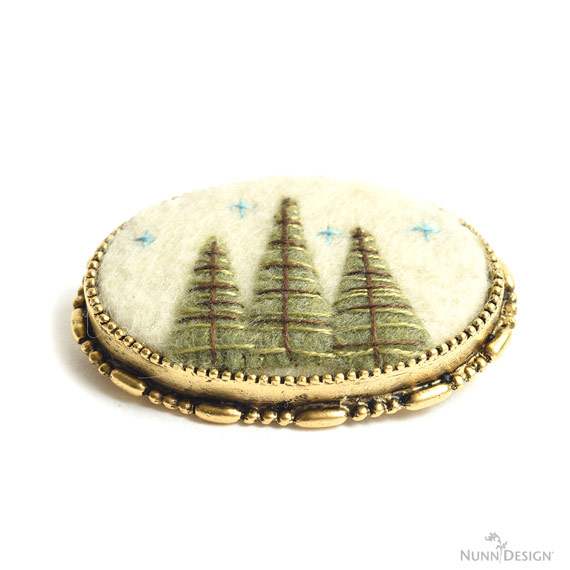 These pieces will soon be featured on Samantha's Etsy site, but I'm sorry to fess-up that I already bought two of them! I just couldn't send them back!
---
Learn More!
---
Shop Nunn Design Jewelry Kits for Embroidery:
The items that are Not included in our kits are the parts that you will need to do the actual embroidery.
Shop Supplies WHOLESALE:
---
Shop Nunn Design Wholesale
Nunn Design has been supplying jewelry artists with findings for over 20 years. Shop wholesale jewelry findings for creative jewelry makers.
Shop Nunn Design!
---
How to Purchase Wholesale?
If you are interested in becoming one of the many designers who trust their jewelry to Nunn Design Findings, please join us by registering to become one of our wholesale customers!
Please visit our Where to Buy Page for a listing of online stores that sell Nunn Design Findings retail.
---
If you enjoyed reading this post, please subscribe to our blog. Here are 10 Reasons Why to Subscribe and a place to do so!