(Source: instagram @fl.orel)
Slowing down and really enjoying the beauty the natural world has to offer is a quality Kari, of Found Florel, brings to her botanical resin jewelry. Kari's jewelry has a feminine, modern and earthy flair that makes her one-of-a-kind creations a success.
"Summertime is filled with seeding, planting, watering, weeding, collecting, cutting, and arranging flowers. Evenings, I walk along my cut flower beds with my little girls and find beautiful blooms that I know will dry and press perfectly. Some nights we spend hours pressing away. And after the fall frost, when the winter begins to creep in, I pull out all of our pressed flowers and am reminded of those long summer days, and the sunshine and the bees and butterflies that we would watch rove around the patch. I really enjoy preserving those beautiful perfect flowers in simple, modern pendants."
I caught up with Kari during the slower winter months to ask her a couple questions about her life, business and creative process. I hope you enjoy learning about the artist behind this line of jewelry.
---
Becky: Tell us a little about yourself.
Kari: My husband and I live on an old farmstead with almost an acre, in a suburb north of the Twin Cities with our three lovely daughters. I'm currently a stay at home mom, with my youngest daughter, while the two older ones are off at school. We are a family who loves to travel, so we're always looking for our next adventure, whether its a camping trip up on Lake Superior, or a trip across the country.
Becky: What type of art background do you have?
Kari: Art was definitely my favorite subject in school, and has always been a big part of my life. Through the years, I've taken up painting, knitting, embroidery, and a couple years ago I got a wee bit addicted to macramé. My good friend and I started selling pieces together at local shops and teaching macramé classes around the Twin Cities, which was incredibly fun. But I got burnt out… and was looking for another creative avenue to head down. Flower gardening kind of took over at that point. When we moved into our farm house, my husband spearheaded the vegetable garden, and while I wanted to help somehow, I turned to flowers. With his generous help, I now have a huge amount of growing space spread out across our plot, and that's where growing cut flowers to sell began. Its a small operation, but it brings me so much pleasure to be outside weeding, and watering and making things grow, all with my girls by my side. I began pressing flowers about 4 years ago. I would press them and admire and collect them, but had no idea what to do with them. One day I came across a photo of a piece of resin jewelry with a flower in it and I instantly fell in love and immediately looked up how I could do that myself. Out came my flower collection from the basement, and began this crazy obsession with resin! 😉
Becky: How long have you been making resin jewelry?
Kari: I've been making resin jewelry for almost two years now. Last summer was the first growing season where I specifically looked for smaller blooms while picking out my seeds from the winter catalog, so I'd have a good mix for bouquets…and those that would be perfect size for small jewelry pieces.
Becky: What would you say are your biggest challenges with making resin jewelry? How have you overcome those challenges?
Kari: My biggest challenges with resin have to be the bubbles (of course) and the fact that sometimes I still get tacky batches. I think I get more irritated with that than the bubbles. I swear my ratios are just right, everything mixes just right, and then I might still end up with a whole batch of tacky, uncured pieces, that will ultimately need another layer. That is frustrating!  The more I work, the more experience I get under my belt, the less frequently it happens. I've also experimented a lot with how to get those tiny bubbles out, and I feel like my pieces are looking better and better with every batch. It just takes a lot of time, trial and error, and patience!!
Becky: What are your main avenues for selling your jewelry? Do you offer your items wholesale as well as retail?
Kari: I've been selling my jewelry on Etsy for a little over a year now. I do have to admit though, that a lot of traffic there is connected to social media, so if I make sure I keep up with posting photos on IG, I make more sales. I watch those statistics on my website, and IG (Instagram) really is the heaviest influencer. Etsy is saturated with fun, beautiful products, and with that said, it can be so hard to be found on there and compete. I firmly believe that that first photo of your item really has to stand out to get customers to interact with your product.
Becky: What are some of your challenges with selling and marketing your jewelry? How have you overcome these challenges?
Kari: I did my first market this past fall and had sooo much fun! The response to my products was better than I had imagined. Booth design was really key at drawing people in. We had so many people remark that it was their favorite booth up there, and once they're in, and digging the floral vibe, and the jewelry, its like a natural connection. Its been great having people that came to the market email me with extra thanks for their pieces, how special they feel in them, and ordering more, for themselves or as gifts. It makes me incredibly happy to hear back from them, and anyone who likes my pieces!
I would love to get more of my pieces out there into shops in the cities, but I am so scared of wholesale! I don't want to cheat myself… but also don't want to overcharge… so that is something I'm trying to educate myself on more this year.
Becky: Do you have any tips on growing and preserving flowers that you would like to share?
Kari: Tips on growing and preserving flowers… plant your seedlings where they get 8+ hours of sun a day and water water water! I've had lazy weeks where nature didn't provide enough, and neither did I, and that affects everything! Stem length, quality of the bloom… amount of blooms. Feed and nourish it with compost when planting, and you'll be rewarded with strong, healthy flowers! And do your research. Some flowers cut and come again plentifully, which makes them keepers in my book!
Pressing flowers… I've found great success in microwave pressing. It preserves the colors so beautifully. It can be time consuming, but as one batch is in the microwave, you can dissect and prepare the next group. I also stock up on water color tablets, and press flowers and leaves in between its pages for 4-6 weeks to get a nicely dried and ready to use flower. Just don't be tempted to peek any earlier!! I've ruined too many because of being impatient.
Becky: Why do you trust your jewelry to Nunn Design Findings?
Kari: In the beginning of my resin exploration, I would buy whatever bezels I could get my hands on, just to satisfy my desire to make, make, make! I learned early on that quality is key. I gave a few of those first ones I made away to friends and sometimes still see them being worn and it's embarrassing! I've offered to replace them, ha! I always strived to make and sell items I am proud of, and that fit my personal taste and aesthetic, which aims to be modern and elegant. Finding Nunn Design was so exciting because it really fits my style and the look that so many women appreciate and search for today. I'm always just itching to get Nunn's new products and try them out as soon as they arrive at my door. They are great quality pieces that last, and that's exactly what I want to work with.
---
Be Inspired!
Check out some of these beautiful pieces Kari made!

(Source: instagram @fl.orel)


(Source: instagram @fl.orel)

(Source: instagram @fl.orel)

(Source: instagram @fl.orel)

(Source: instagram @fl.orel)

(Source: instagram @fl.orel)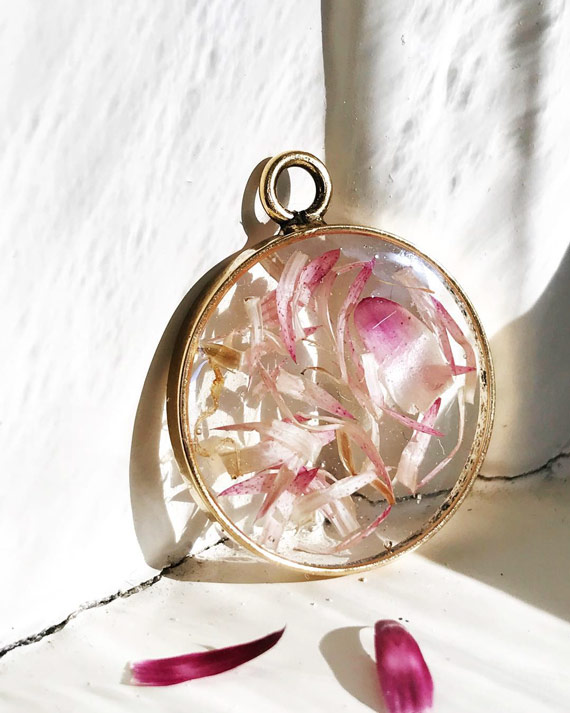 (Source: instagram @fl.orel)
Thank you Kari for providing a glimpse into your creative process. It is a joy to watch your business expand and to know the artist behind your creations.
---
Shop and Follow!
---


If you enjoyed reading this post,
please subscribe to our blog.
Here are 10 Reasons Why to Subscribe
and a place to do so!
---
Shop Nunn Design Wholesale
Nunn Design has been supplying jewelry artists with findings for over 20 years. Shop wholesale jewelry findings for creative jewelry makers.
Shop Nunn Design!
---
How to Purchase Wholesale?
If you are interested in becoming one of the many designers who trust their jewelry to Nunn Design Findings, please join us by registering to become one of our wholesale customers!
Please visit our Where to Buy Page for a listing of online stores that sell Nunn Design Findings retail.
---

If you enjoyed reading this post, please subscribe to our blog. Here are 10 Reasons Why to Subscribe and a place to do so!