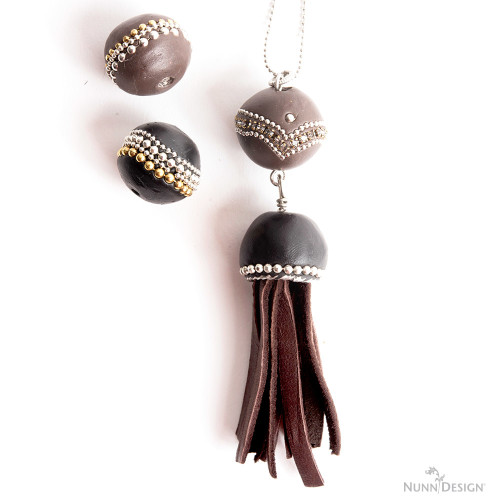 Exploring this technique using paper beads, Crystal Clay and chain to create a variety of projects was super fun to do. My "fun" was the inspiration behind our newest Buy & Try Program; Paper Bead Hollow Forms.
Over the past couple days, I have shared other tutorials teaching how to create unique tassels and beadcaps.
In this blog post I will be walking you through how to make lightweight beads using Crystal Clay, paper beads and chain.
shop now! > Buy & try paper bead hollow form
Shop Wholesale: Buy & Try Paper Bead Hollow Form
---
Learn How!
Tutorial #3 Paper Bead Hollow Form Beads
Supplies Needed:
Crystal Clay
Paper Bead Hollow Form
1 Grande Rope Jumpring
5" Faceted Bead Chain
2.5" Rhinestone Chain 14pp
Tools Needed:
Flush Cutters
Pair needle nose pliers
Wet wipes
Toothpicks or headpins
Gloves
A small wooden skewer (optional)
A small dish of water
---
Step 1: Follow the manufacturer's instructions for the handling and mixing of the Crystal Clay. While wearing gloves, pinch off two equal pea sized balls of Part A and Part B, blend together fully until the clay is no longer marbled and uniform in color. You have approximately 90-120 minutes of working time before the clay starts to harden, so take your time. Once the clay is thoroughly mixed, remove your gloves to make is easier to work with the clay.
---
Step 2: With this technique, you have the choice of creating a round bead with the paper ball remaining in the inside of the finished bead, or a choice of making a round bead where you remove the paper bead after the Crystal Clay has hardened. If you choose to leave the paper bead in the center of your round bead, you will want to make sure that you create a hole that passes all the way through the paper bead prior to moving onto Step 3. To create a hole that passes all the way through, use a sharp firm point such as an X-Acto Knife. I had a pair of small sewing scissors that easily poked a hole all the way through.
---
Step 3: Roll the thoroughly mixed Crystal Clay between your palms until it forms a smooth round ball. Press the ball of Crystal Clay into a round flat patty and wrap the clay around the Paper Bead Hollow Form. I like to put my Paper Bead Hollow Form onto a small wooden skewer when doing this part to free up both hands. If you have a tear in the clay or if you don't have enough clay, mix up a wee bit more and add to your existing clay. You can lightly wet your fingers with water to make the clay smooth and even.
---
Step 4:  Once the Crystal Clay is fully wrapped around the Paper Bead, roll the clay wrapped paper ball around in the palms of your hands to evenly disperse the clay. For this tutorial, I'm leaving the paper bead in the center of the bead. Create holes on both ends of the clay bead over the holes you created in the paper bead. You should be able to easily identify the placement of the hole, as there will be an indentation over the hole in the Paper Bead.
---
Step 5: Embed your chain into the wet Crystal Clay. Once you wrap all the way around the bead, use your Flush Cutters to trim away the excess so that your ending point is right next to your starting point. Take your time and go slow. The attention to detail will really show in the finished product.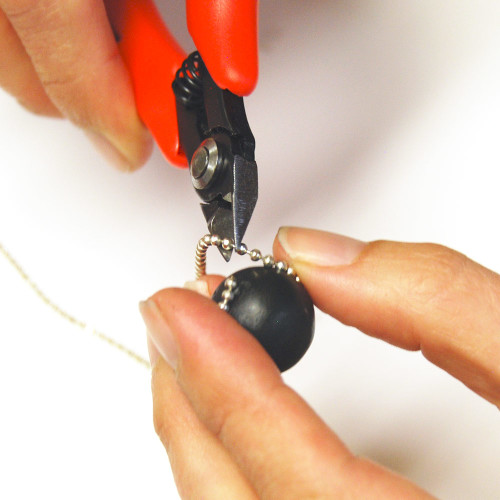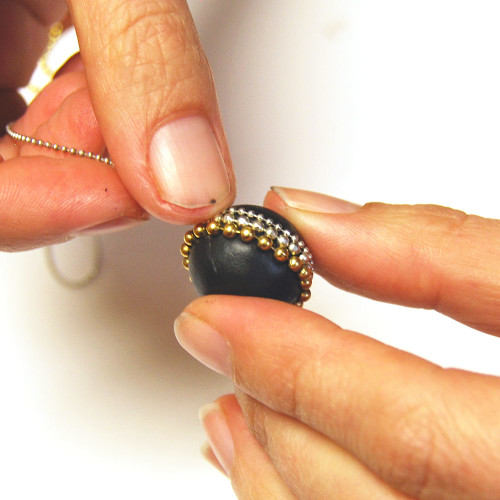 ---
Step 6: Gently roll the chain wrapped bead in the palms of your hands to make sure they are fully embedded into the clay. Don't press too hard or things will go wonky.
---
Step 7:
Use a wet-wipe to clean up any Crystal Clay that might have gotten onto the chain. The epoxy clay hardens like cement, so cleaning it up now and being tidy as you go makes the process easier and the results so much nicer. Allow the epoxy clay to dry for several hours or until hard to the touch.
---
Step 8: If you choose to remove the paper bead once the bead is hard to the touch, apply a couple drops of water onto the paper bead in the center. Use needle nose pliers or tweezers to pull the wet paper out of the center of the Hollow Bead Form. Having the holes large enough will really be key to removing the paper bead easily. Keep removing until all of the paper is removed (well, some bits will still be in there and that is fine).
---
Step 9: You now have a bead that you can link together or use to dangle.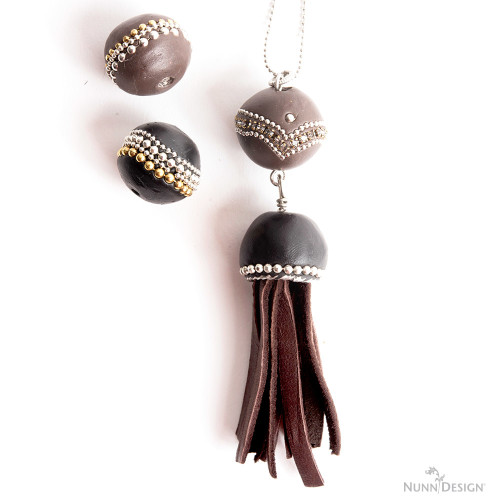 Download Tutorial: Paper Bead Hollow Form Beadcaps Tutorial
---
Here is how the Buy & Try Program works
Nunn Design offers a Buy & Try Program to encourage jewelry makers; both wholesale and retail, to buy the products needed to try something new.
For Wholesalers: How the Wholesale Buy & Try Program works:
Minimum wholesale quantities for "Buy & Try" items are waived, allowing you to receive the lowest tiered price possible.
No need to purchase a wholesale minimum order of $100.00 on "Buy & Try" items. You can add these items to your cart and check out with just the items you will need for a day of creating!
"Buy & Try" items cannot be combined with other wholesale products. 
Sorry it may be a bit confusing, so email Cheryl at Cheryl@nunndesign.com if you have any questions.
The Buy & Try items are a limited time offer. The Buy & Try Paper Bead Hollow Form offer expires March 20, 2016 at midnight. Orders will ship on or before March 28th, 2016.
After 

March 20th

:

Buy & Try items will stay up for purchase however you will be required to purchase full bulk packs of findings and you may combine these items with regular wholesale items.
$100 Minimum order back in effect.
---
Shop Supplies:
Shop Supplies RETAIL:
shop now! > Buy & try paper bead hollow form
Shop Supplies WHOLESALE:
---

If you enjoyed reading this post, please subscribe to our blog. Here are 10 Reasons Why to Subscribe and a place to do so!