April 27-29th, 2017 we will be offering the 2nd Annual Nunn Design Art Retreat for jewelry making here in Port Townsend, WA. This will be an intimate class of 12 people, with a few spots still available! To sign-up, email Cheryl at cheryl@nunndesign.com.
---
Schedule:
Here is an outline of what we will be doing during the two+ days of class:
Thursday April 27, 2017, we will open the class with a pre-class party on Thursday evening. The warehouse will be open for poking, digging and of course shopping! We will have food and beverages and tons of samples for you to look at and learn from.
Friday will be an all day class day. Based on the information that we gather from the students that will be attending (there is a survey with the registration form), I will cater the class to be geared to what you want to learn. Speaking of catering, we will have lunch brought in and lots of great snacks, tea and coffee!
Friday evening will end with a fun outing in downtown Port Townsend!
Saturday we will resume classes and Lunch will be provided.
---
Registration & Fees:
Register and pay by January 31, 2017: Early Bird Special – $330
Register and pay February 1 – February 28 2017 – $380
Registrations received between March 1 and April 1 2017 – $410
Registration closes April 1, 2017
Cost includes: Thursday pm pre-party with snacks, pre-class demos (4 hours). All day class on Friday with lunch (7 hours). An after hours event (dinner not included). Saturday all day class with lunch (7 hours). All supplies will be provided and included in the cost of the class.

The class starts on Thursday night here in the Nunn Design Office. Everyone is provided a class kit to create a bracelet like this sample above. If a Paris Theme isn't your cup of tea, you can switch out the imagery. If you don't want Paris Themed Charms, switch out your charms. You don't like pink and black colors; switch the colors out to a palate that is more you.
Here are some bracelets that were created by other students that have taken the Nunn Design Art Retreat Class.

Credit: Kelsey of Fusion Beads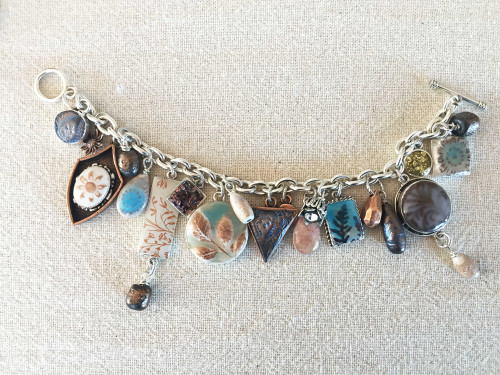 Credit: Susan Forker of Joey 5 Cent

Credit: Lindsay of Fusion Beads

Credit: The team at Artbeads.com
---
Techniques We Cover:
Here is a breakdown of all the techniques that we covered, from left to right.
A. Texturizing Crystal Clay in an Open Frame Pendant
B.C.D. Sculpted Relief with Colorized Resin
F.  Transfer Sheet over Crystal Clay
E.  Colorized Resin with Transfer Sheet
G. Glitter Roxs with Gel du Soleil
H. Collage Sheet with Nunn Design 2-Part Resin
I. Collage Sheet with Glass Domes
J.  Rubber Stamping on Crystal Clay with Nunn Design 2-Part Resin
N.  Embedded Crystal Clay with Nunn Design 2-Part Resin
M.  Prong Settings
O.  Embedding with 2-Part Resin
Other baubles and bits were techniques showing how to use excess Crystal Clay.
---
Last Year's Art Retreat:
Visit these blog posts to see other bracelets that students created during their art retreat.
Port Townsend Image Sources: Greg Alford, Al McCleese, www.staypt.com/activities/vacation-planner/, sanjuanclassicdaysailing.com
---
Sign Up:
What do you think? Look like fun? To sign-up, email Cheryl at cheryl@nunndesign.com.
---
Shop Nunn Design Wholesale
Nunn Design has been supplying jewelry artists with findings for over 20 years. Shop wholesale jewelry findings for creative jewelry makers.
Shop Nunn Design!
---
How to Purchase Wholesale?
If you are interested in becoming one of the many designers who trust their jewelry to Nunn Design Findings, please join us by registering to become one of our wholesale customers!
Please visit our Where to Buy Page for a listing of online stores that sell Nunn Design Findings retail.
---

If you enjoyed reading this post, please subscribe to our blog. Here are 10 Reasons Why to Subscribe and a place to do so!