The 2018 Winter Collection was released last week reveling a full collection of new findings added to the Nunn Design product mix. Over the past few weeks we have provided inspiration and product information on these newest additions in our blog. Read more about our new release of Drops, Hammered Moon & Cross Charms, our Organic Hoops, the Organic Flat Tags, new Earwires and Wire Frames, and organic style Open Back Bezels with Preciosa Crystals by clicking on the links provided.
For this post, let's take a closer look at the addition of a gray colored Deerskin Lace and 2 new chain options that we added to the Nunn Design Product Line.
---
Deerskin Lace!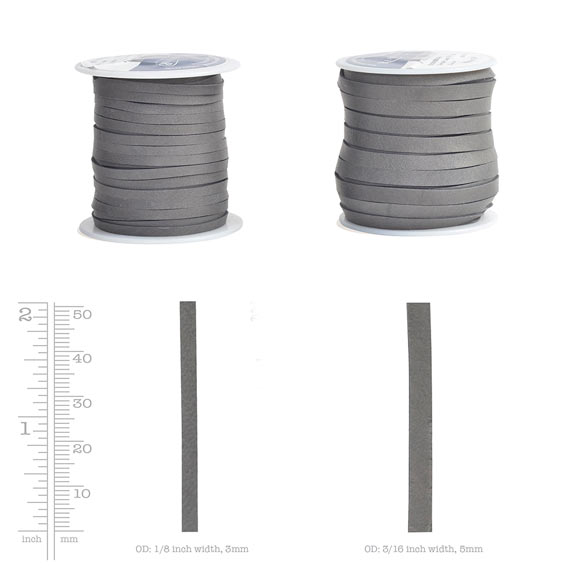 Deerskin Lace is created from deer that have been harvested in North American. It is tanned and stained with natural dyes here in the United States. Nunn Design is a distributor of Silver Creek Leather Company's Deerskin Lace. We purchase large quantities of Deerskin Lace from Silver Creek Leather Company at a discounted price and then offer it wholesale to our customers. It is a win-win for everyone.
New Deerskin Lace in Gray:
New to our collection is the Deerskin Lace in Gray. Deerskin Lace is available in two sizes; 1/8" (3mm) and 3/16" (5mm) and now available in 4 colors; black, chocolate, saddle and gray. Each spool consists of 50 feet.
---
Effects of Natural Dyes:
Please read this blog post that I created about the effects that the natural dyes of the Deerskin Lace can have on the precious metal plating. Within the post there are suggestions on how to prevent the dye chemically altering the metals.
---
Leather Connectors:
A finding that I use on a lot of my Deerskin Lace jewelry designs are the Ribbon End Leather Connectors in the 3mm and 5mm sizes. The metal can be easily crimped down using a pair of pliers.
---
Be Inspired!
---
New Chains! Satellite 2mm Bead Chain & Delicate Link Cable Chain
We received many requests for additional finer chain options to be added to our collection. We have heard your requests and have added these two new chains as a result.
---
Satellite 2mm Bead Chain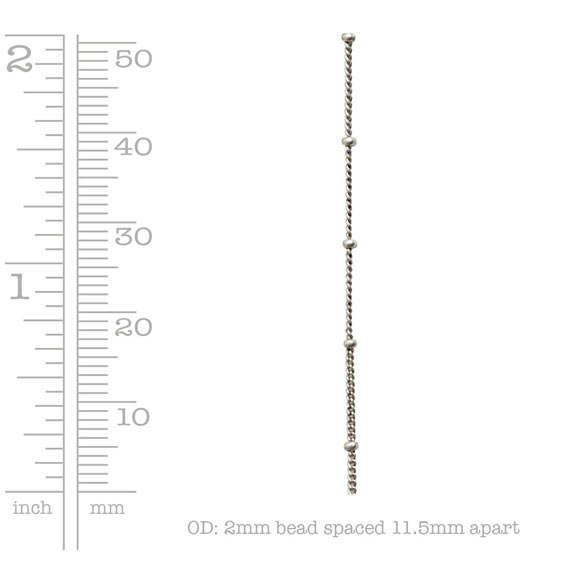 The Satellite 2mm Bead Chain is brass and plated with copper, 24k gold and .999 fine silver and is sold on a spool of 25 feet. The 2mm bead spacers are separated 11.5mm apart with a fine cable chain.
Ball Chain Crimp Connectors:
You will need to finish the ends of your chain with a Nunn Design Ball Chain Crimp Connector because the cable chain is too fine to attach a jumpring. When cutting the chain to add the Crimp Connector, cut at least 1/8 inch after the bead spacer to ensure the bead does not slip off the chain.
---
Be Inspired!
---
Delicate Link Cable Chain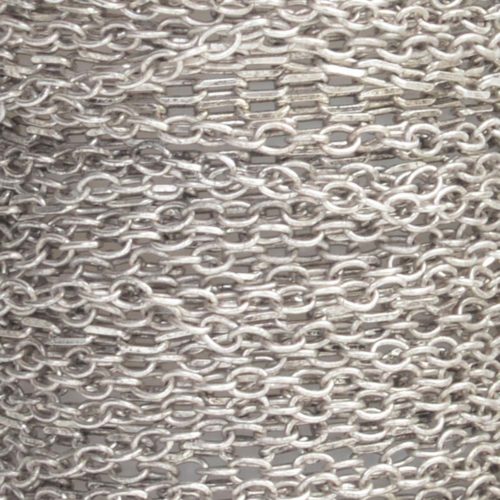 Fine and delicate is the trend! This Delicate Link Cable Chain is brass and plated copper, 24k gold and .999 fine silver and is sold on a spool of 25 feet. To finish your chain into a necklace, use the Jumprings Small to attach a Hook & Eye Clasp or other closure.
---
Be Inspired!


Shop the Delicate Link Cable Chain!
---
2018 Winter Collection – Now Live!
Many of the models created in the 2018 Winter Collection's release were hand crafted by myself. First I worked with clay to construct models in just the right size, width, and shape that would work fluently with the other findings in our product mix. The pieces have an organic hand forged look by design. We hope that you will like creating with this newest collection of findings as much as we have.
---
Shop Nunn Design Wholesale
Nunn Design has been supplying jewelry artists with findings for over 20 years. Shop wholesale jewelry findings for creative jewelry makers.
Shop Nunn Design!
---
How to Purchase Wholesale?
If you are interested in becoming one of the many designers who trust their jewelry to Nunn Design Findings, please join us by registering to become one of our wholesale customers!
Please visit our Where to Buy Page for a listing of online stores that sell Nunn Design Findings retail.
---

If you enjoyed reading this post, please subscribe to our blog. Here are 10 Reasons Why to Subscribe and a place to do so!