For many of you, these organic styled Open Back Bezels that are joining the everyday Nunn Design findings line aren't really a "sneak peek." These are items we tested during our Flash Sales in a previous month.
We tested and you told us "we love these!"
---
New Open Back Bezels
Let's do a little review about these great "new to the line" bezels. The organic styled Open Back Bezels are designed to work with Preciosa Crystals, Swarovski Crystals, stones and cabochons. As with most Nunn Design Findings, they could also be used with Nunn Design Resin, Crystal Clay, or polymer clay!
Open Back Bezels will be available in three shapes and four plating options. All the Open Back Bezels are cast in lead-free pewter and plated with copper, 24k gold and .999 fine silver. Cast and plated in the USA, each style of bezel is sold in bulk packs of 10 pieces per plate. To learn about the glue that works best with the crystals, take look at this blog post: Gluing Crystal to Metal.
We will also have Preciosa Crystals available in companion sizes for the open back bezels. An 8mm circle, a 14mm pear, and a 12mm square cushion stone.
---
1. Open Back Bezels Circle 8mm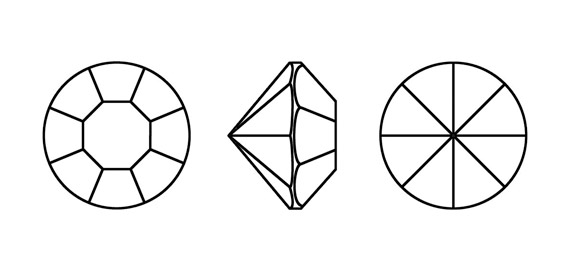 ---
2. Open Back Bezels Pearl 14mm



---
3. Open Back Bezel Square 12mm



---
Be Inspired!
Many of you have had the opportunity to explore techniques using these great bezels already. So you know how much fun they are to create with. Here are some examples of my most recent creative play.
The techniques I explored in these Open Back Bezels include; colorized resin and transfer sheets, colorized resin and organics, embedding ball chain into epoxy clay and embedding crystals into the bezels themselves.
---
2018 Winter Collection – Goes live January 4th
All of these items, and a whole lot more, will be available starting January 4, 2018 when our 2018 Winter Collection goes live. We hope that you were one of the many who voted to have these items be added to our line!
After January 4th, 2018 – look for the 2018 Winter Collection in our New Products section!
---
Shop Nunn Design Wholesale
Nunn Design has been supplying jewelry artists with findings for over 20 years. Shop wholesale jewelry findings for creative jewelry makers.
Shop Nunn Design!
---
How to Purchase Wholesale?
If you are interested in becoming one of the many designers who trust their jewelry to Nunn Design Findings, please join us by registering to become one of our wholesale customers!
Please visit our Where to Buy Page for a listing of online stores that sell Nunn Design Findings retail.
---

If you enjoyed reading this post, please subscribe to our blog. Here are 10 Reasons Why to Subscribe and a place to do so!