One of our staff, Christee, has a Halloween Birthday. To celebrate, we carved pumpkins instead of having cake (trying to be a little healthier around here). It was fun!
Becky used some epoxy clay and chatons to bling up her very thick, squash-like pumpkin because it wouldn't take a knife. She's a creative problem solver like that. Christee brought in a leaf for her inspiration and the rest of us made an assortment of faces.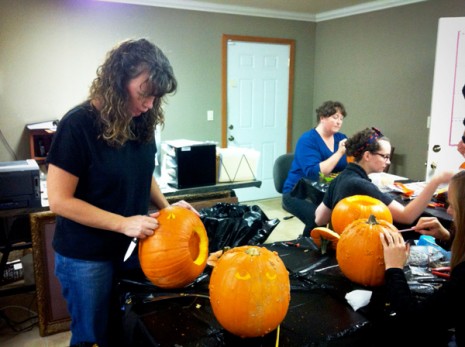 Watch out! Heather has a knife!
Team Nunn: Christee, Cheryl, Becky, Haylee, Heather, Chris, and an invisible Melissa (me).
We hope you have a great Halloween! Enjoy creating – in whatever you do.
Melissa
---

If you enjoyed reading this post, please subscribe to our blog. Here are 10 Reasons Why to Subscribe and a place to do so!