Yep, it is true.  Stephanie is our girl of the hour…AGAIN.  And what isn't there to love about this project.  Metal Stamping, beads, fiber, and images…oh my!
Stephanie's simple step-by-step instructions makes it easy for a beginner to imagine the possibilities of creating true lovelies and also provides the advanced jewelry artist with inspiration.  Please download our Bathing Beauties Sari Silk Necklace Tutorial and get-a-creating!
To see more of Stephanie's great work, visit her on her etsy site at: www.maxandlucie.etsy.com
1. Start by stamping the word "SEA" on the gold Nunn Design Flat Tag Large Thin Rectangle. You can use a Sharpie marker to darken the recesses of the letters; quickly wipe the surface before the ink dries so that just the letters are dark. If the ink dries, you can sand it off with fine sandpaper. Set aside.
2. Thread the bead and Nunn Design Beadcap 9mm Sea Spire on the headpin, make a loop, and set aside.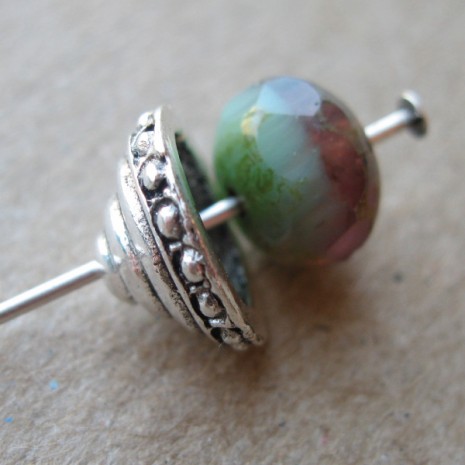 3. Following the package directions, place mermaid image (from the Nunn Design Bathing Beauties Collage Sheet) on the Nunn Design Large Channel Bead. Set aside to dry.
4. Seal the mermaid image with Nunn Design Sealant or a light coat of resin. Let cure.
5. Gather a few strands of sari silk together. Wrap wire around at the center, leaving a long tail of wire. Using the tail, pull the silk through the center of the channel bead. Make a wire wrapped loop on top. Your bunch of silk should be thick enough to hold the channel bead so it doesn't slide off, but if not, make an overhand knot in the silk under the channel bead to hold it. You can hide a knot in the bunch of silk or tie all the strands together. You can let the silk hang long and flowing or trim it shorter.
6. Attach ND Flat Tag Large Thin Rectangle, shell chain, and bead to large links of chain. Open end of chain and connect to ND Channel Bead Large or use large jump ring.
7. Thread pendant on chain. There is no clasp—you can fit it over your head. Of course you may add a clasp if you wish.
---
Shop Nunn Design Wholesale
Nunn Design has been supplying jewelry artists with findings for over 20 years. Shop wholesale jewelry findings for creative jewelry makers.
Shop Nunn Design!
---
How to Purchase Wholesale?
If you are interested in becoming one of the many designers who trust their jewelry to Nunn Design Findings, please join us by registering to become one of our wholesale customers!
Please visit our Where to Buy Page for a listing of online stores that sell Nunn Design Findings retail.
---

If you enjoyed reading this post, please subscribe to our blog. Here are 10 Reasons Why to Subscribe and a place to do so!