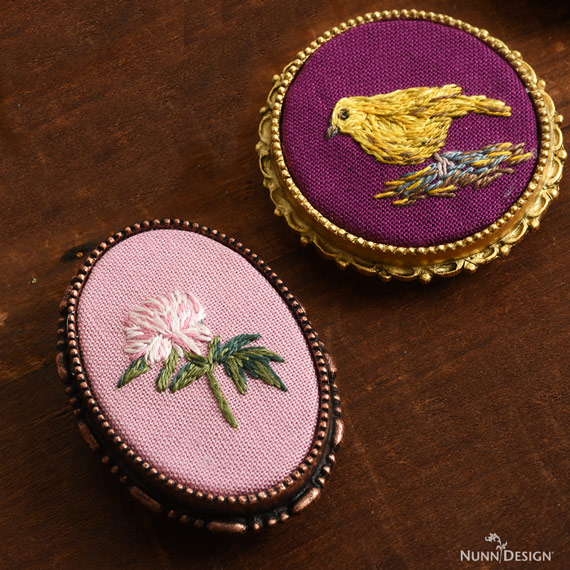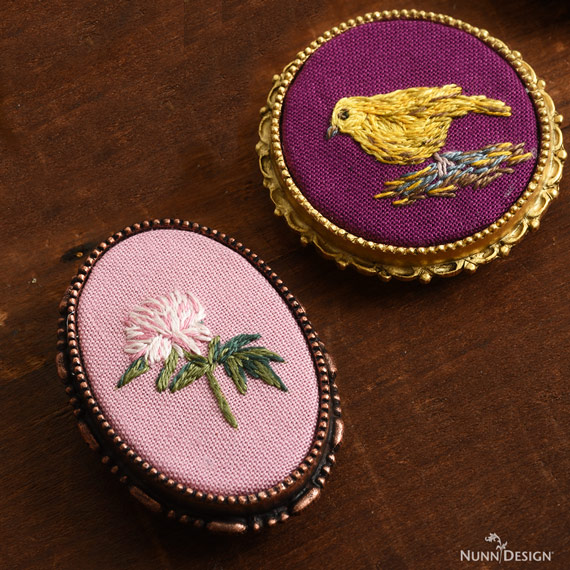 (Source: instagram @jess_richter_art)
I am a big fan of Jessica Richter embroidery work (formerly Thimble Thistle). I am fairly confident that you will be too after being inspired by her work.
Jessica's primary embroidery works is creating adorable custom pet portraits. Last year for Christmas she surprised me with this wonderful holiday ornament of my cat Sparky.

(Source instagram: @nunndesign.com via @jess_richter_art)
In between stitching beautiful creations, Jessica look some time to answer a couple questions about herself and her business.
---
Becky: What are some of your challenges in owning a small business?
Jessica: The pros outweigh the cons, but being a one-woman operation has its challenges. Everything is dependent on you from coming up with new ideas, marketing, web site updates, as well as shipping products and customer service. It has to be something you really love doing, because when things become a lot of work you have to be willing to put the time and energy into it.
Becky: How do you balance your creative/business/family life?
Jessica: For me, treating it like a regular job is how I stay on task. I stick to a regular schedule as much as I can and allow myself time off to relax and recharge.
Becky: Have you felt vulnerable in any way as you have gained more exposure with your embroidery?
Jessica: Yes, social media is a great tool, however, I would suggest to others that if you're inspired by someone else's work, try to make something that you are passionate about.
Becky: Do you set creative and business goals for yourself? Could you share one?
Jessica: Yes, because I work small, embroidering faces was a challenge. My goal was to figure out a way to embroider a face with details like the eyes. It took me several tries and was something I revisited over a few months, testing scale and different size threads. My finished piece was Botticelli's, Venus. I then did the Mona Lisa and it was a great learning experience.

(Source: instagram @jess_richter_art)
Becky: Oh! I love both of the pieces!!!
Becky: Where did you learn embroidery? Do you have any suggestions for those who want to get started?
Jessica: I've always done crafts and learned basic sewing from my grandmothers when I was young. I started embroidering little projects here and there, but really made embroidery my focus a few years ago. My advice for beginners is to practice and start simple. Your skills will build over time. You don't need to learn every stitch to be successful, you just need to do a few well.
Becky: Where do you find color inspiration?
Jessica: My main inspiration comes from the seasons. I try to make a few seasonal pieces every few months to keep colors current and new.
I also like to take trips to the fabric shop. Because most of my subjects are animals, including a pop of color in the background that is complimentary to the fur is something I like to do. For example, an orange colored dog on a blue background really stands out.
Becky: How do you market/sell your work?
Jessica: I'm working on a new site with some new features but mostly I market through Social media, like Instagram and My Etsy shop, www.etsy.com/shop/Jessicarichterart.
Becky: Did you enjoy working with the Nunn Design Jewelry Kits for Embroidery?
Jessica: Yes! I love that they are silver and gold plated.
---
Be Inspired!
Take a look at some of these beautiful pieces that Jessica created using the latest addition of Jewelry Kits for Embroidery.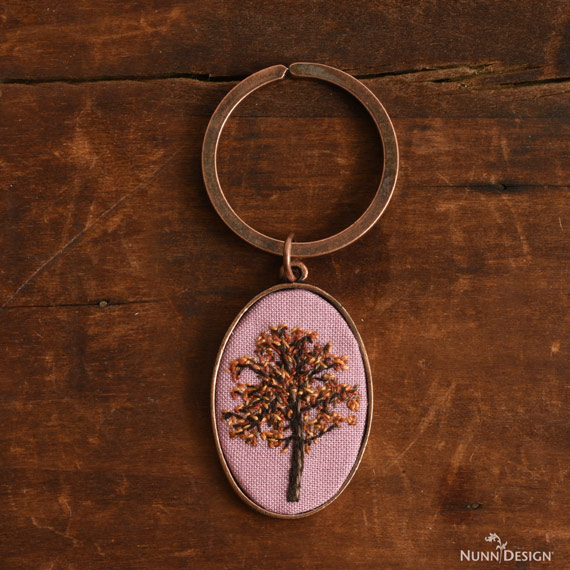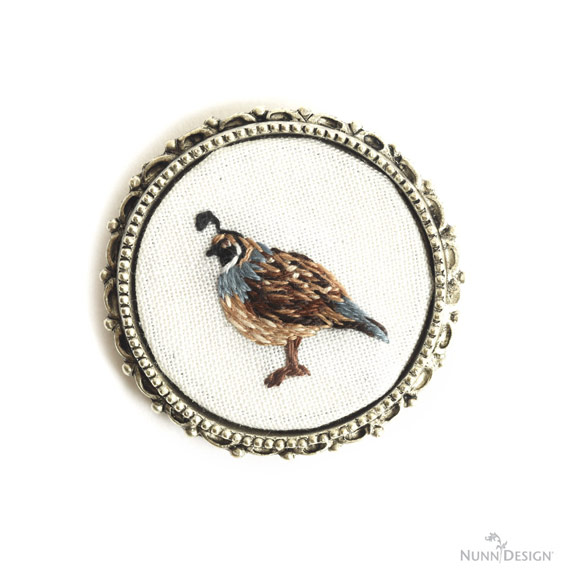 I can't help but include these pieces! They weren't created using one of the new Jewelry Kits for Embroidery, but with another brooch design that Nunn Design offers.
---
Learn More About Jessica:
---
Shop Nunn Design Jewelry Kits for Embroidery:
The items that are Not included in our kits are the parts that you will need to do the actual embroidery.
Shop Supplies RETAIL:
Shop Jewelry kits for embroidery!
Shop Supplies WHOLESALE:
---
Shop Nunn Design Wholesale
Nunn Design has been supplying jewelry artists with findings for over 20 years. Shop wholesale jewelry findings for creative jewelry makers.
Shop Nunn Design!
---
How to Purchase Wholesale?
If you are interested in becoming one of the many designers who trust their jewelry to Nunn Design Findings, please join us by registering to become one of our wholesale customers!
Please visit our Where to Buy Page for a listing of online stores that sell Nunn Design Findings retail.
---

If you enjoyed reading this post, please subscribe to our blog. Here are 10 Reasons Why to Subscribe and a place to do so!