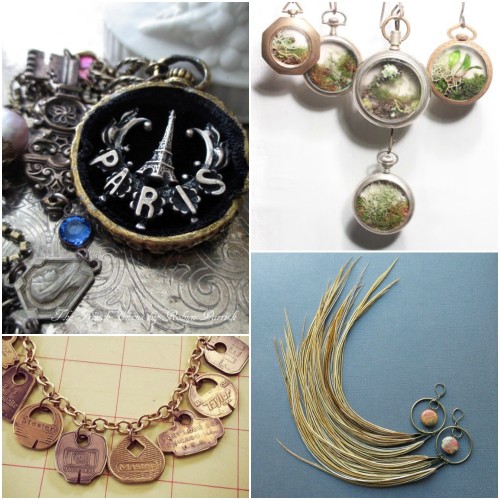 Jewelry fads come and go. Jewelry trends tend to stick around longer, especially during times of a slow economy. Although I'm not trying to pretend I am cutting edge on trends, here are some trends that I like.
---
Trend:  Jewelry with a Strong Sense of Place
Jewelry with a strong theme that reminds people of an event or a desired adventure, such as a trip to France, is still very popular. Artists like Robyn Parrish of The French Circus have it down!
---
Trend:  Bold Contemporary Statements
I love these big bold contemporary statements by Jujumade.
---
Trend:  Feathers Incorporated in Jewelry
I'm enjoying seeing natural feathers being incorporated in jewelry. Etsy jewelry artist Mylia of Chrysalism does a lovely job!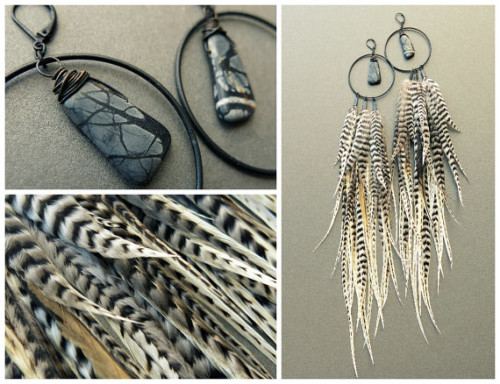 ---
Trend:  Including Organics in Jewelry
Here are some great examples of including organics into these locket styled necklaces by The Slug and The Squirrel.
---
Trend:  Jewelry that Captures a Memory
Fusionbeads.com shows what can be done with all those squished pennies! I must admit, I'm kind of addicted to those machines and search for them in every museum! I'm collecting the squished pennies for my two girls. I am planning on making them charm bracelets for their 18th birthday. A captured memory of all the places we have gone together. Busts me up just thinking about it!
---
Trend:  Upcycle into Something Awesome
This is awhile back from Tabitha Ott's blog, but using found objects and making them into something cool is still very trendy.
---
Are you seeing other trends? Please share some of your favorites.
---

If you enjoyed reading this post, please subscribe to our blog. Here are 10 Reasons Why to Subscribe and a place to do so!