Besides looking super cool, these Lucky Charm Earrings are packed with symbolic meaning. Here is a breakdown of what you would be symbolically adorning yourself with by slipping on these little beauties.
The Wishbone Charm is a symbol of the promise of good luck. If the Wishbone is unbroken, it symbolizes that a wish or desire is to become true in the near future.
The Heart Charm symbolizes the power to bring things to life.
The Star Charm symbolizes good luck and protection. This particular star charm is a nautical star. Stars have been thought of as a good luck symbols for centuries. Sailors sometimes decorated themselves with tattoos of nautical stars as a totem of protection and luck against the unknown turbulent and often dangerous seas. The nautical star helped to remind them which way was true North. Since ancient times, our ancestors have turned to the stars to read luck and to navigate the path of safety.

The Horseshoe Charm symbolizes good luck. It wasn't the end result of the horseshoe that was the symbol of good luck in times gone by, but more of the maker of the horseshoe itself, the Blacksmith. Blacksmithing was considered to be an extremely lucky trade because they worked with fire, an element that provided protection against evil. The horseshoe was hung over the doorway of one's home to prevent the "evil eye" from entering. The horseshoe was considered lucky too because it used 7 iron nails to be attached, another very important and powerful number.

The Arrow Charm symbolizes focus and movement forward. The arrow in flight has a purpose or focus as it moves through the air in pursuit of its target. The forward movement of the arrow symbolizes guidance and purpose towards a goal.
---
Tutorial on How To!
Believing in good luck is really up to the beholder. Regardless if lucky charms symbolize anything to you or not, you can't deny that these are fun, well designed and are made of quality USA made lead-free castings that are plated with pure copper, 24k gold or .999 fine silver. Super fun and super easy to assemble.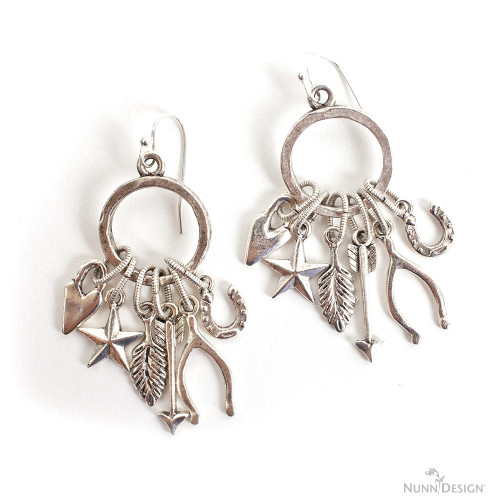 Supplies Needed:
2 Earwires-Sterling Silver Plate (ewss-b)
2 Toggle Ring Contemporary-Antique Silver (trc-sb)
12 Jumpring 9mm Textured Oval-Antique Silver (jr9to-sb)
2 Charm Mini Horseshoe-Antique Silver (cmhssb)
2 Charm Wishbone-Antique Silver (cw-sb)
2 Charm Mini Arrow-Antique Silver (cma-sb)
2 Charm Mini Star-Antique Silver (cms-sb)
2 Leaf Charm-Antique Silver (lcs-b)
2 Charm Primitive Heart-Antique Silver (cph-sb)
Tools Needed:
2 Pairs of needle nose pliers
---
Step 1: 
Using 2 pairs of needle nose pliers, attach the 6 different lucky charms using 6 of the Jumprings 9mm Textured Oval onto 1 of the Toggle Ring Contemporary. Repeat to create the second Lucky Charm Earring.
---
Step 2: 
Once all the Lucky Charms are assembled onto the Toggle Ring Contemporary, insert the Earwire through the loop on the Toggle Ring. Close earwire. Repeat to create the second earrings.
---
Step 3:
Assemble more charms onto your earrings if you would like. You might be interested in making the matching bracelet and necklace in the same Lucky Charm styles.
---
Shop the Supplies!
Shop Supplies WHOLESALE:
Charms:
Findings & Closures:
---
Shop Nunn Design Wholesale
Nunn Design has been supplying jewelry artists with findings for over 20 years. Shop wholesale jewelry findings for creative jewelry makers.
Shop Nunn Design!
---
How to Purchase Wholesale?
If you are interested in becoming one of the many designers who trust their jewelry to Nunn Design Findings, please join us by registering to become one of our wholesale customers!
Please visit our Where to Buy Page for a listing of online stores that sell Nunn Design Findings retail.
---

If you enjoyed reading this post, please subscribe to our blog. Here are 10 Reasons Why to Subscribe and a place to do so!