The pure copper that we use to plate our brass and cast pewter findings continues to patina with age. Sometimes I will pull out a piece of jewelry I have created years ago and not see the difference. Other times, I'm completely shocked at how the patina has aged. Let me show you an example of what I'm talking about.
---
Patina Copper Example
Here are some examples from the charm bracelet that I discovered had greatly altered. I pulled some inventory of a couple of the charms from the warehouse to show the difference in the plating. I'm thinking that maybe I created this bracelet in August of 2016. You can see that the pieces have darkened significantly.
Theory:
I do have a theory on why this happened. I think the off-gassing chemicals, associated with the Crystal Clay charms (an air-dry epoxy clay), on the far right, had something to do with the darkening process. I think this because ALL of the charms, along with the Rolo Charm Bracelet Chain, darkened in a consistent way. If it was due to aging, the pieces would have changed at different rates, because the inventory wasn't all plated at the same time in the same chemical bath.
---
Preventing Patina:
Copper plating does continue to patina with age. You can prevent it from happening by storing it in an airtight bag and by avoiding any exposure to other chemicals. The copper plating can also be distressed by using steel wool to remove the copper plate and create a duo-tone look with the pewter that is underneath.
---
Here are some examples of another charm bracelet that didn't have any Crystal Clay charms. You can see that the charms altered a little, but that could also be because from batch to batch the copper plating can vary in look. This bracelet is a year old.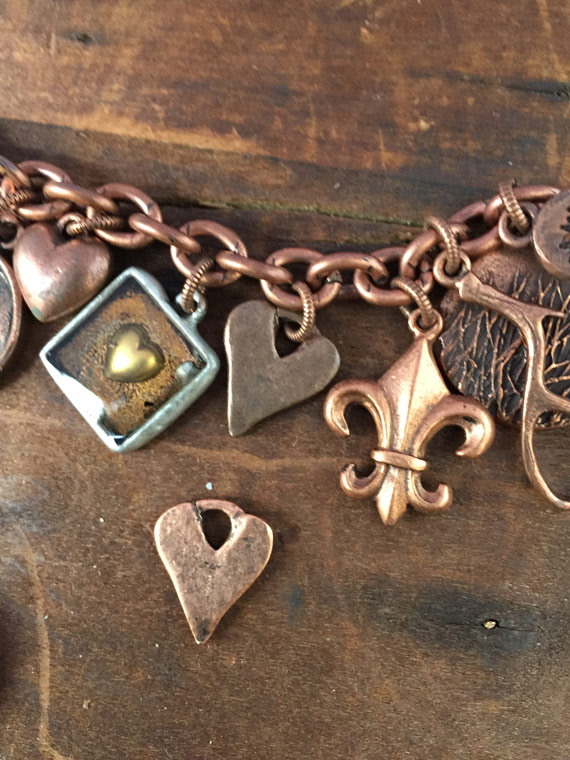 ---
Enhancing the Patina Process:
If you do like the aged look that comes with the natural patina process, here are two ideas that I have to experiment with how to expedite the patina process.
1. Place some copper findings in a bag with a piece of activated Crystal Clay. I have no idea if this would work, but heck, worth playing with.
2. After a lot of wear and continual rubbing against other charms, or whatever happens to jewelry when it is well loved and worn, the copper plating starts to lessen on the high relief areas. The cast pewter under the copper starts to show through. On these pieces, I actually took a piece of very fine steel wool and rubbed it over the plated copper charms to create that look. I personally love it. It just looks interesting.
---
What Do You Think?
What do you think? Do you like the aged copper look?
---
Shop Nunn Design Wholesale
Nunn Design has been supplying jewelry artists with findings for over 20 years. Shop wholesale jewelry findings for creative jewelry makers.
Shop Nunn Design!
---
How to Purchase Wholesale?
If you are interested in becoming one of the many designers who trust their jewelry to Nunn Design Findings, please join us by registering to become one of our wholesale customers!
Please visit our Where to Buy Page for a listing of online stores that sell Nunn Design Findings retail.
---

If you enjoyed reading this post, please subscribe to our blog. Here are 10 Reasons Why to Subscribe and a place to do so!