Findings within the Nunn Design Collection fit and play nicely with each other. Due to this, there are numerous combinations that can be created, offering uniqueness to each jewelry design. Crest Tags fit into Crest Pendants, Open Bezels, Key Pendant Charms, Framed Pendants, Mini Links and more.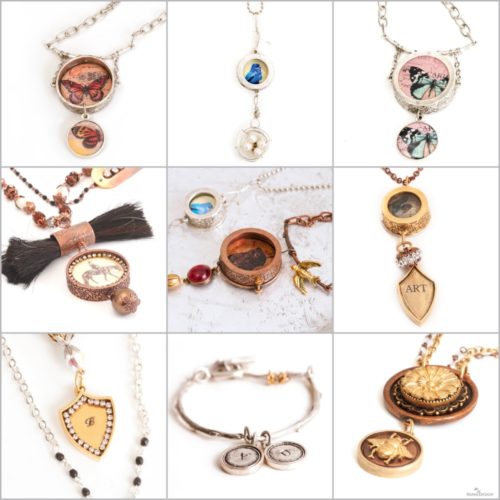 1. Hornad by Becky Nunn, 2. Lago Di Orta by Becky Nunn, 3. Hornad (again) by Becky Nunn, 4. Herfy by Heather Thompson, 5. Lago Di Orta and El Cajas by Becky Nunn, 6. Cubango by Becky Nunn, 7. Olenekskiy by Erin Prais-Hintz, 8. Rue by Becky Nunn, 9. Corantijn by Becky Nunn
---
---
Inspiration Above, Free Download Below
Check out the selected pieces above for inspiration and components used and download the Crest Tag Cheat Sheet to learn all the combinations you can make!
---
Closure Notice: Nunn Design Will Be Home For The Holidays!
We will be closing down shop for the Holidays! Starting on December 24 at 4 pm and reopening January 2nd at 8 am. We hope that all of you will have time to be with family and friends too.
Price Increase Notification: Pricing Increase January 1st
As of January 1st, Nunn Design will be having price increases on some of the items within our line. You may want to stock-up and save!
---

If you enjoyed reading this post, please subscribe to our blog. Here are 10 Reasons Why to Subscribe and a place to do so!