Making sure the starting point and finishing points of your wire wrapping is secure, will prevent the wire from becoming snagged and potentially unraveled.
Here are some helpful tips for wire wrapping success!
---
Wire Wrapping Tips!
Create a 90-degree angle on the end of the wire. Place the wire down onto the surface that you are going to wire wrap onto (in this case it was a strip of leather).
---
Wrap the wire around the leather 3 times, wrapping over the starting point to secure the wire to the leather. Use a pair of needle nose pliers to tug firmly on the starting point making sure the start of the wire wrap is very tight and secure.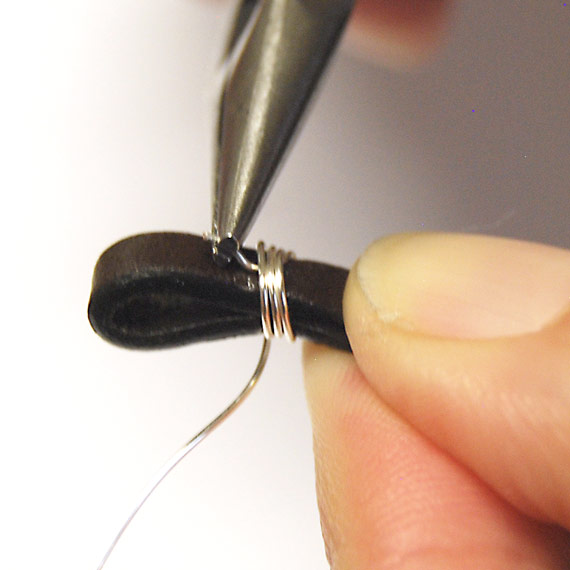 ---
Trim away the excess wire of your starting point using a pair of flush cutters.
---
To finish off your wire wrapped end, thread the wire into the loop of the leather end and pull on the wire firmly.
---
Cut away your excess wire with a pair of flush cutters. Use a pair of needle nose pliers to make sure your end is tucked in firmly into the inside edge of your leather loop so it will not snag on anything.
---
Shop Nunn Design Wholesale
Nunn Design has been supplying jewelry artists with findings for over 20 years. Shop wholesale jewelry findings for creative jewelry makers.
Shop Nunn Design!
---
How to Purchase Wholesale?
If you are interested in becoming one of the many designers who trust their jewelry to Nunn Design Findings, please join us by registering to become one of our wholesale customers!
Please visit our Where to Buy Page for a listing of online stores that sell Nunn Design Findings retail.
---

If you enjoyed reading this post, please subscribe to our blog. Here are 10 Reasons Why to Subscribe and a place to do so!