Recently I created a series of molds from sea shells and other organics I picked up on the beaches around Nunn Design's home base of Port Townsend, Washington. I'm always in search of little treasures to incorporate in my jewelry making.
The series of pendants featured on page 22 of the Nunn Design Master Catalogue were made from a mold I created with Silicone Molding Putty from a cluster of barnacles attached to a shell.
The collection of bezels featured here are the Deep Bezel Pendants. These bezels are created from a rolled edge brass bezel. A brass ring is soldered into place with lead-free solder. Bezels are vibed and clean, but the overall feel is more rustic and artisan looking. If you are into having your natural clean brass be oxidized, dip the bezel in a solution of liver of sulfur to bring out the natural darkening that happens to aged raw brass.
Deep Bezel Pendants are available in 4 different sizes. The inner dimension run from Mini to Grande; 19.3mm for the Mini, 21.8mm for the Small, 28.5mm for the Large and 34.6mm for the Grande. The depth is substantial ranging for 4mm to 5.5mm.
---
Learn How:
To learn how to create Sculpted Epoxy Clay Pendants, and other items using Epoxy Clay and Colorized Resin, here are a series of tutorials and videos to walk you through the process:
Holiday Ornament Tutorial Featuring Technique:
Although this tutorial is really about creating "holiday ornaments," it is ideal for learning the overall technique! Holiday Ornament Workshop Tutorial

Holiday Ornament Workshop Tutorial
Sculpted Epoxy Clay in Open Back Wire Frames:
In this tutorial, I'm showing how to create this same technique, but in an Open Back Wire Frame. Faux Porcelain Sculpted Relief with Colorized Resin in a Wire Frame

Faux Porcelain Sculpted Relief with Colorized Resin in a Wire Frame
Registering Impressions with Sculpted Relief:
This tutorial shows how you can create a mold so that you have a perfect register with each impression into the clay. Make These Sculpted Relief Epoxy Clay and Resin Pendants

Make These Sculpted Relief Epoxy Clay and Resin Pendants
Start To Finish, Learn in Tutorial Video:
Here is a video where I show the full start to finish overview of how to do this technique.
To learn each of the steps in more detail, you may want to watch this 4 part series of videos Epoxy Clay: Molding, Casting, Setting, & Finishing:
---
Be Inspired:
Here are the finished pieces I made with the barnacle mold and this technique.

(ND Gallery: Planeta)

(ND Gallery: Maan)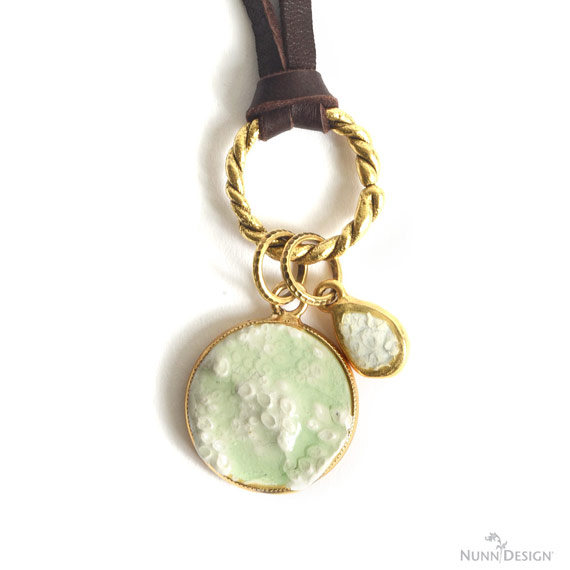 (ND Gallery: Creatura)
---
Shop Supplies:
Shop the Supplies for this Technique Wholesale:
---
Shop Nunn Design Wholesale
Nunn Design has been supplying jewelry artists with findings for over 20 years. Shop wholesale jewelry findings for creative jewelry makers.
Shop Nunn Design!
---
How to Purchase Wholesale?
If you are interested in becoming one of the many designers who trust their jewelry to Nunn Design Findings, please join us by registering to become one of our wholesale customers!
Please visit our Where to Buy Page for a listing of online stores that sell Nunn Design Findings retail.
---

If you enjoyed reading this post, please subscribe to our blog. Here are 10 Reasons Why to Subscribe and a place to do so!