What isn't there to love about these tiny pieces of art. A house or a home can symbolize so many things to each that encounter them. For me, home symbolizes my place in which I become grounded and feel safe. My home is my launching pad for going forth in the world and allowing myself to be seen through my creativity. Shouldn't we all have one of these tokens of beauty in our pockets to help us feel that wherever we are? I'm game!
Here are some of my favorites:
---
Elukka
http://www.etsy.com/listing/70890510/5-miniature-house-charms
---
Humblebeads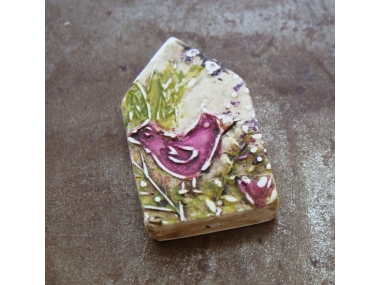 http://www.humblebeads.com/product/folk-art-house-bead?tid=24
---
Mylittlethinks
http://www.etsy.com/listing/162838352/copper-little-house-pendant-with-star?ref=market
---
Loulouclaycreations
http://www.etsy.com/listing/115692999/love-shack-my-little-house-pendant?ref=market
---
Ceramics By Orly
http://www.ceramicsbyorly.com/product/miniature-ceramic-love-house/
---

If you enjoyed reading this post, please subscribe to our blog. Here are 10 Reasons Why to Subscribe and a place to do so!