The team at Nunn Design sits down quarterly to work with the product line first hand. Our art day helps the team collaborate on new ideas for additional products, test existing products and it gives us all an awareness of what it is like for all of you to create with our jewelry findings and techniques.
We hope that you can learn from us (and our mistakes!) as well as be inspired to set aside an art day for yourselves.
---
Haylee Trocone (Shipping Diva)

I learned how to use wax thread to sew deerskin lace to create this bracelet. For the focal, I wire wrapped a Brass Stamping Grande Bumble Bee onto an Open Frame Large Hexagon.
---
I created these small tassels using the tops of the Itsy Bottles. Since the Itsy Bottle Top already has a loop on the top (hence no hole) I cut my chain fringe, wrapped the top of the chain fringe with Crystal Clay and inserted it into the Itsy Bottle Top. It worked great!
---
I am also an illustrator, so it is fun to incorporate my imagery into my jewelry. For these pieces I used colored pencils and ink on illustrator paper to create the Eye of Sauron and other images and then used the Nunn Design Glue to adhere them onto the Nunn Design Glass Domes. I then used Nunn Design Glue on the backside of my images to adhere the glass domes into the bezels.
---
Super fun, super easy assemblage and metal stamping of a Supernatural inpsired piece.
---
Cheryl Weinstein (Dealer of Details)
I had the idea of creating a mosaic like piece using colorized 2 Part Resin. I thought I could let it cure and then shatter it like glass. I even placed in in the freezer over the weekend (don't worry, there is no food in there!), but I couldn't get it to shatter. I will try cutting with scissors next.
---
I learned that it IS possible to use too much alcohol ink in your pieces.
---
For this piece, I placed white Crystal Clay in to the base and texturized the clay with the Clay Squisher Retro. Once the clay had cured, I painted on dark blue alcohol ink fairly heavy, pushing the ink down into the recessed texture. With a wet-wipe a wiped away the excess ink providing a lighter blue color in the non-recessed areas. To finish I used Nunn Design 2-Part Resin over the top.
---
My biggest learning was that experimenting is fun and requires a different creative mindset, one that allows for lots of messing up and not so pretty creations; however, building on the experiments is where the beauty lies.
Oh, and for those who have been asking, Gel du Soleil and opaque colorants do not work. Whatever you are trying to cure has to be translucent in order for the Gel to cure. Good to know huh?
---
Dawn (Warehouse Master)
This art day I spent time trying to figure out how to texturize with my new Flex Shaft. The drill was a little hard to control on a smooth curved surface so I gripped it just enough to let the bit do its thing. I was happy to discover that the cuff bracelet fits on the wood dapping block! It was perfect for holding the cuff in place while I texturized it.
---
More Flex Shaft play!
---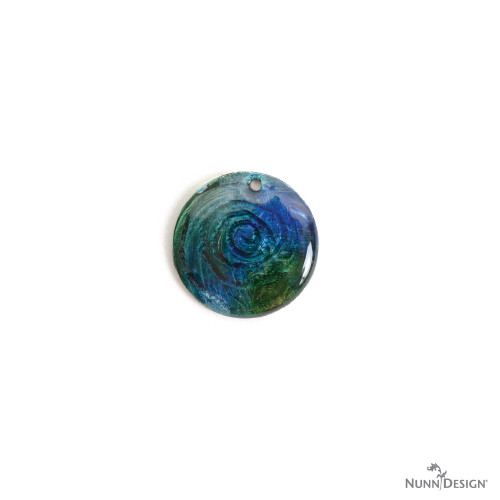 For this piece, I texturized a flat tag with my Flex Shaft, applied alcohol inks and then Nunn Design 2-Part Resin.
---
For this piece, I had created a mold by pouring wax into our deep bezel square ring. Once the wax hardened, I slightly heated up the metal of the ring by placing it into hot water. Heating the ring allowed me to remove the wax cube from the inside of the rings bezel. Once the wax cube came out, I created a mold using Easy Mold Silicon Putty. In hindsight, there was probably easier ways to do this, but it worked.
After my mold was set, I mixed US ArtQuest Mini Prills with Nunn Design 2-Part Resin and poured it into the mold and let it cure. I do wish I had spent more time mixing the beads with the resin to try and get a better coating on the Mini Prill pieces.
---
Crystal Clay White can be tinted using water-soluble colored pencils. You have to be careful when apply the Nunn Design Sealant over the top of your finished piece. The sealant lifted the pigment a slight bit in areas that I messed with it too much. I love the results of this technique though. It created a textured piece that was part watercolor and part bas-relief.
---
More play!
---
Christee (Special Accounts Ring Leader)
A lot of the team explored using US ArtQuest Mini Prills and Mica Flakes. I recommend mixing the Mini Prills and Mica Flake together with the Nunn Design 2-Part Resin prior to pouring into the bezels. It was hard to get a even domed surface with the resin when I poured the Prills and Flakes in first.
---
When doming flat tags, it is best to punch your additional holes first then dome. When I domed and then punched additional holes the plating tended to crack. I also found that if I tried to dome the silver plated flat tags too much, the plating cracked. Maybe I was hammering too hard? Best to go slight handed and slow when doming.
---
Other play!
---
Melissa Williamson (Graphic Designer Goddess)
I like wooly wire as a quick and colorful way to connect/tie up leather pieces.
---
Open Frame Pendants are just rad. I made some earrings and hung a drop flat tag in the open space, contrasting the geometric with organic. Super quick and easy!
---
The Mini Prill Beads are a neat way to add color and texture to the piece. I took a copper lotus charm and gave it a peaceful feel with some blue plastic beads to represent water.
---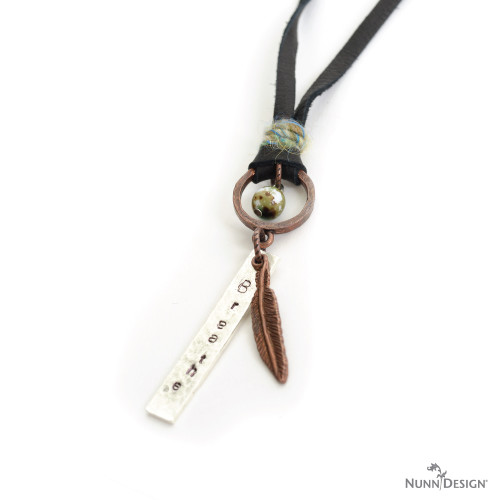 I take all the step-out photos when Becky is creating tutorials but it doesn't replace the actual experience. My Breathe necklace is pretty wonkily stamped because I chose to "wing it" rather than tape it down or mark it out. But it works for my piece. Just breathe. It's ok.
---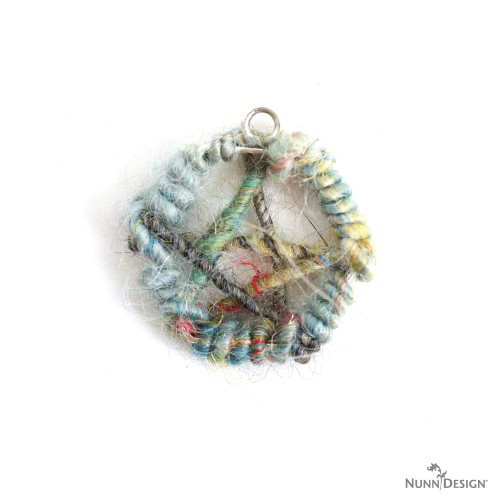 I played with an Open Frame Pendant and Wooly Wire to create this star but I see how I could of created a colorful dream catcher. Maybe next art day?
I was reminded that working in an environment with other creative energy, bouncing ideas off one another and sharing in the joy of learning and creating drastically improves the quality of the event and the finished creations!
---
Isn't Team Nunn talented?! We are missing Heather Thompson's great pieces (someone forgot to put them in the pile to be photographed!). We will be seeing her pieces in another post.
---
Shop Nunn Design Wholesale
Nunn Design has been supplying jewelry artists with findings for over 20 years. Shop wholesale jewelry findings for creative jewelry makers.
Shop Nunn Design!
---
How to Purchase Wholesale?
If you are interested in becoming one of the many designers who trust their jewelry to Nunn Design Findings, please join us by registering to become one of our wholesale customers!
Please visit our Where to Buy Page for a listing of online stores that sell Nunn Design Findings retail.
---

If you enjoyed reading this post, please subscribe to our blog. Here are 10 Reasons Why to Subscribe and a place to do so!