We are super excited to share the long awaited 2020 Pantone formulas!
Once you know how to mix Nunn Design 2-Part Resin, it is easy to master adding Opaque Pigments to create on-trend colorized resin. The trick to this process is mastering the formulas for mixing the colors! Heather, of Team Nunn, once again sat down during our latest Nunn Design Art Day to figure out the formulas for all of us to use.
In this post, I'm going to include all of the formulas that Heather created. You will be able to see how the slightest change in the amount of Opaque Pigments added to the formula will provide a totally different look. The truth of the matter is, I love all of the colors and feel they all have value in listing, not just the Pantone matches.
You might also be interested in reading:
To start, let's cover how to mix the Nunn Design 2-Part Resin. Then we will get into the process of how to colorize the mix resin with the color formulas.
---
Supplies:
Supplies Needed:
Nunn Design 2-Part Resin Kit
Resin Mixing Cups
Resin Stir Stick Narrow
Resin Stir Stick Wide
Castin' Crafts Opaque Pigments
Others:
Wet-wipes
Toothpicks
Plastic bag for work surface
Tape
Plastic gloves
---
Mixing Nunn Design Resin:
1. Read the resin instructions for safety concerns regarding the Nunn Design Resin.
When I work with resin, I always:
Place a large plastic bag over my work surface and tape it down.
I make sure I have ventilation in my workroom.
I wear gloves.
I wear glasses (readers because I can't see anymore. Plus it protects my eyes!).
I have a pile of wet wipes handy.
This is a great blog post that covers 20 Habits for Successfully Using Nunn Design 2-Part Epoxy Resin. Even if you are a seasoned resin mixer, this might be worth a read.
You can also watch this great video on How to Mix Nunn Design Resin
---
2. Place one cup (included in the Nunn Design Resin Kit) onto your table. For curing purposes, it is very important that the resin be an exact 1 to 1 ratio of Part A and Part B. I suggest getting your eyes level with the resin so you can see the lines on the measuring cup. Pour Part A of your resin kit up to the ½ fluid ounce mark on your measuring cup. Pour Part B of your resin kit into the same cup until it is filled to the 1 fluid ounce mark. It is important to pour Part A first and then Part B. It is some chemical thing about the part A being heavier or something.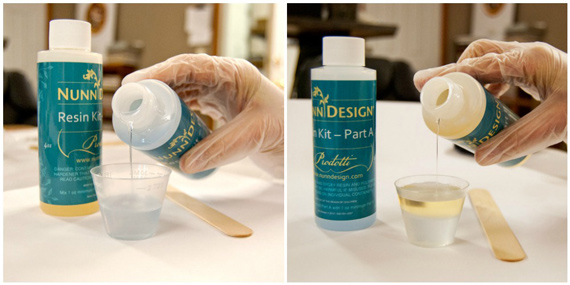 ---
3. Set your timer for 2 minutes. Using the stir stick from your kit (a popsicle stick or coffee stir stick will work great too), slowly and carefully stir your resin scraping the sides as you stir. Stir for a minimum of 2 minutes. If your resin is still cloudy continue to mix until clear. After mixing is complete and your resin is clear, scrape both sides of your stir stick on the edge of your resin filled cup.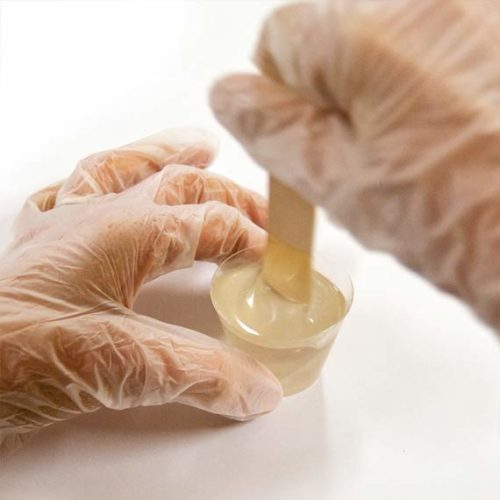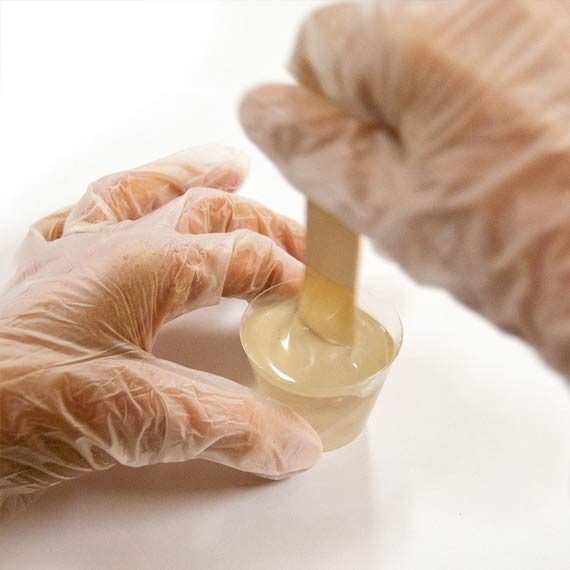 ---
Prepare for Colorizing:
4. Once your resin is fully mixed, pour the resin into a resin mixing cup up to the 1 teaspoon line.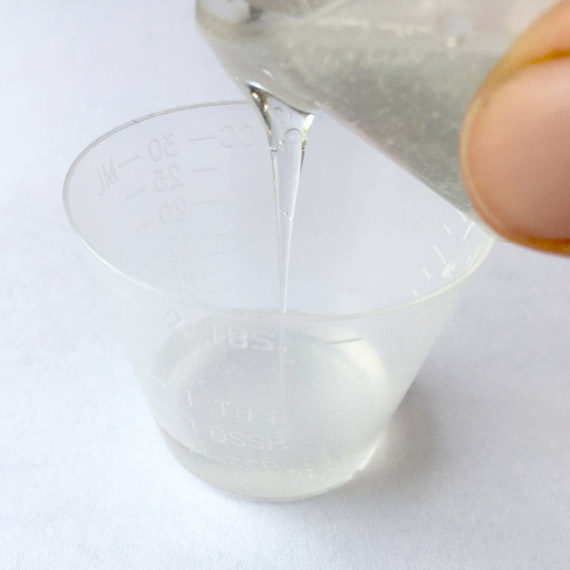 ---
5. Squeeze a little of the Castin' Crafts Opaque Pigments onto a plastic bag. To prevent your Castin' Crafts Opaque Pigments from being contaminated with mixed resin, you will want to use a fresh toothpick with each "toothpick tip" worth.  I cut my toothpicks in half so I could easily use both ends. 
---
6. The Castin' Craft Opaque Pigments are very potent. Let's define what a "tiny toothpick tip" and a "toothpick tip" amount of colorant should look like. This is not an exact science. If you don't get the exact amount, your color will still come out fairly close.
A "tiny toothpick tip" should look like this.

("tiny toothpick" = ttp)
A "toothpick tip" should look like this.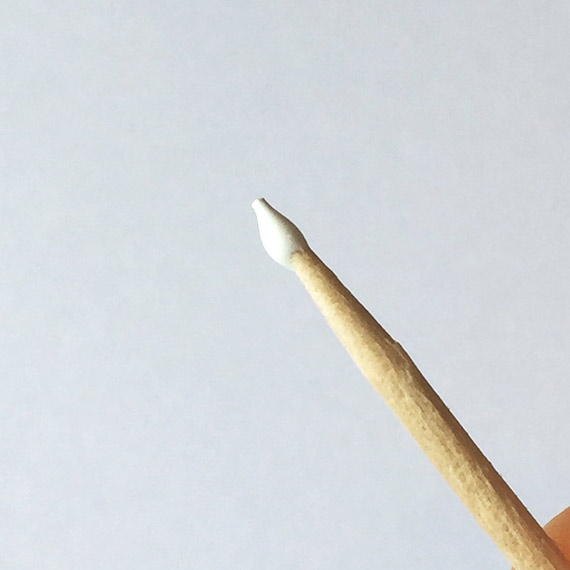 ("toothpick tip" = tp)
---
Add Your Colorants:
7. Add the required amount of Castin' Crafts Opaque Pigment to the mixed resin following your chosen Pantone Color formulas listed below. If you want to make more of any one color, double the batch!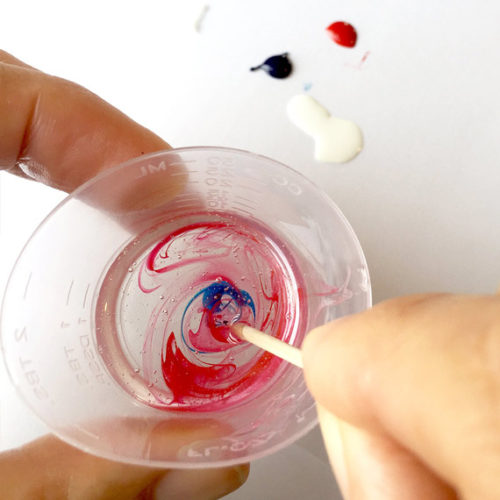 ---
8. Once all of the Castin' Crafts Opaque Pigments are added into the resin, stir everything together with a stir stick until fully mixed.
---
Here are the formulas for the 2020 Pantone Colors:
DOWNLOAD 2020 PANTONE COLORS CHEATSHEET PDF!
---
Shop Wholesale Nunn Design Findings
---
Shop Nunn Design Wholesale
Nunn Design has been supplying jewelry artists with findings for over 20 years. Shop wholesale jewelry findings for creative jewelry makers.
Shop Nunn Design!
---
How to Purchase Wholesale?
If you are interested in becoming one of the many designers who trust their jewelry to Nunn Design Findings, please join us by registering to become one of our wholesale customers!
Please visit our Where to Buy Page for a listing of online stores that sell Nunn Design Findings retail.
---

If you enjoyed reading this post, please subscribe to our blog. Here are 10 Reasons Why to Subscribe and a place to do so!