This week Nunn Design is featured in a lovely spread in Cloth Paper Scissors Magazine. I highly recommend picking up a copy of this issue because the tutorial is exclusive to the magazine and streamlines all these techniques into one easy read. This will walk you through creating this look by featuring the Nunn Design tutorials that have previously posted in our blog. Enjoy creating!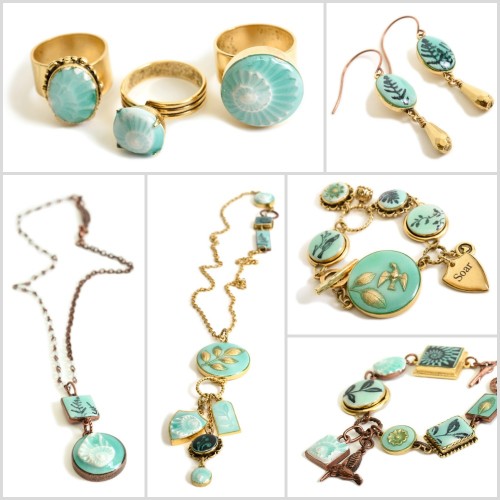 ---
#1 Faux Porcelain Transfer Sheet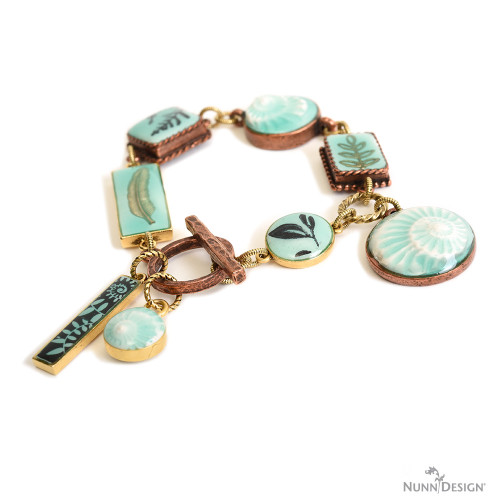 A similar technique was featured prior on our blog as a Buy & Try using UV resin. The jewelry samples featured in Cloth Paper Scissors features the use of Castin' Crafts Colorants to colorize the Nunn Design 2-Part Resin that is applied over transfer sheet image.  See the tutorial below to see how this was done.
Learn How Here: 
Shop the Supplies:
---
#2 Faux Porcelain Rubber Stamping
The same is true for these pieces. We had featured a tutorial on our site with our Buy & Try Faux Porcelain where I showed how to rubber-stamp onto Crystal Clay and then apply Gel du Soleil, a UV resin. Here, the only difference is that I used Castin' Crafts Colorants to colorize the Nunn Design 2-Part Resin to pour over the rubber-stamped Crystal Clay instead of the UV resin.
Learn How Here:
Shop the Supplies:
---
#3 Faux Porcelain Embedding Brass Stampings
Okay, now I'm stumped.We haven't shown a tutorial like this yet, but it is fairly basic. Mix the Crystal Clay, push in the brass stampings and add colorize resin. If you have any questions or want to see a tutorial, email me and I'll get it in cue.
Shop the Supplies:
---
#4 Faux Porcelain Sculpted Relief
Learn how to make a mold, how to sculpt Crystal Clay and how to colorize Nunn Design 2-Part Resin with Castin' Craft Colorants with this great tutorial. There are also several videos with the blog post that clearly show you how to achieve this great looking technique.
Learn How Here:  Make These Sculpted Relief Epoxy Clay and Resin Pendants
Shop the Supplies:
There you have it! I hope that you will find a technique here that will work for you. If you have any questions at all, please email me at becky@nunndesign.com. I can walk you through any of these techniques if you have questions.
---
Shop Nunn Design Wholesale
Nunn Design has been supplying jewelry artists with findings for over 20 years. Shop wholesale jewelry findings for creative jewelry makers.
Shop Nunn Design!
---
How to Purchase Wholesale?
If you are interested in becoming one of the many designers who trust their jewelry to Nunn Design Findings, please join us by registering to become one of our wholesale customers!
Please visit our Where to Buy Page for a listing of online stores that sell Nunn Design Findings retail.
---

If you enjoyed reading this post, please subscribe to our blog. Here are 10 Reasons Why to Subscribe and a place to do so!