January tends to be a productive month for the Nunn Design Innovation Team. Packages from the team members arrive for me to open and gawk over. It's like Christmas all over again. Productivity is high because the team members know that Tucson yields many projects placed in various publications. Innovation Team Member, Karen McGovern, sent in these jewelry creations along with her thoughts and inspirations behind the pieces.
---
Four Seasons Brooch Series
One of the many reasons I love working with the Nunn Design Innovation Team is the "never know what you're going to get" feeling when Becky sends us new products to play with. When she sent me the new pin/pendant bezel frames I was like a kid at Christmas! I love these so much. What sprang to mind immediately when I got my hands on them was to create a Four Seasons series. The depth of the bezel is perfect for creating layers within, and I chose to work with enamel copper, faux enamels and a variety of beads and stampings from Becky. The Winter pin/pendant is my favorite, featuring Nunn brass and silver snowflakes, a sterling silver "icicle", enamel copper and pearl. Each season features wonderful Nunn elements. HINT: You can open and flatten the Nunn flower bead caps by gently tapping on them with a chasing hammer. Viola! You now have tiny flowers! I used them in the Spring pin/pendant." -Karen
---
Guitar Gods Bangle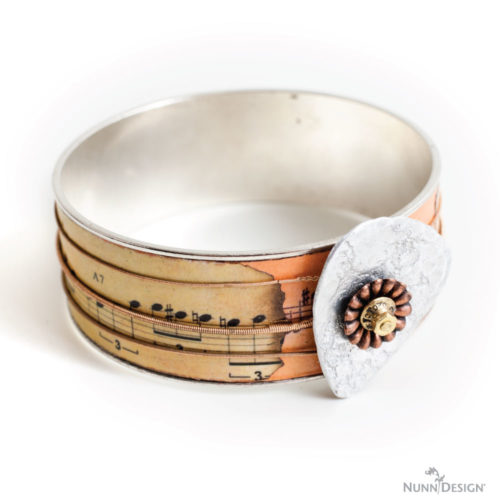 The guitar pick bangle is another favorite of mine. I love the Nunn wide bangles!! One of my friends is a wonderful guitarist, and we were talking about creating a music themed line of jewelry. I hit upon creating guitar picks in a variety of metals. He supplied the pick for a template, as well as guitar strings in differing gauges. For the bangle, I printed out music from three of my favorite "guitar Gods"–Santana, Stevie Ray Vaughn, and Jimmie Hendrix. I burned and aged the paper, then layered them around the bangle fixed in place with Nunn adhesive. Next I attached the guitar strings using three micro screws and nuts, and layered the aluminum guitar pick on top accented with a Nunn copper bead cap. I'm really in love with this design." -Karen
---
Art Doll Pendant
Finally, I created the art doll pendant using another of my favorite new Nunn designs–the screw back bezels. The doll's polymer face is glued in place with an enamel copper disc. The ornate copper screw back bezel is layered on top of an aluminum base, sandwiching a Nunn copper tag I stamped with the word "Hope" brass wings are painted with patina and metal paints, and a tiny aluminum heart accents. I also used one of Nunn's cool copper branch connectors here, with a tiny brass bird and leaf, also by Nunn. All held together with either micro screws or rivets.

Thanks Becky, for giving us such great tools and supplies to play with. Can't wait to see what's next!!" -Karen
---
To see more of Karen's work, visit:
ND Gallery: www.nunndesign.com/designers/karen-mcgovern/
Website: www.beadkeepers.com/
Facebook: www.facebook.com/Beadkeepers
---
Shop Nunn Design Wholesale
Nunn Design has been supplying jewelry artists with findings for over 20 years. Shop wholesale jewelry findings for creative jewelry makers.
Shop Nunn Design!
---
How to Purchase Wholesale?
If you are interested in becoming one of the many designers who trust their jewelry to Nunn Design Findings, please join us by registering to become one of our wholesale customers!
Please visit our Where to Buy Page for a listing of online stores that sell Nunn Design Findings retail.
---

If you enjoyed reading this post, please subscribe to our blog. Here are 10 Reasons Why to Subscribe and a place to do so!