I'm not sure how the artwork of Alexis of Meadow and Fawn first came into my awareness, but I do know that I loved it from the moment I saw it. Her talents as an artist are vast. She sculpts and paints clay to create beautiful nature landscapes and jewelry with great attention to detail.
Many fine artists master a skill. Alexis' mastery of her craft and her passion for the natural world is what makes her work really stand out to me. Each of her pieces and their attention to detail suggests someone who has allowed herself the time to really slow down and observe. Her pieces are intricate and sweet, soft and gentle. You can't help but feel the love that this artist has infused into her work.
I was thrilled to have this Australian based artist agree to collaborate and create some pieces with Nunn Design Findings. All of her pieces are copyright protected and uniquely hers. If you would like to purchase them, please contact Alexis at hello@meadowandfawn.com or through Instagram @meadowandfawn. Her work sells out quickly, so make sure to subscribe to her newsletter so you can know when her next batch of pieces will be offered.
---
Meadow & Fawn and Nunn Design Findings
Here are some of the pieces that Alexis created with Nunn Design Findings.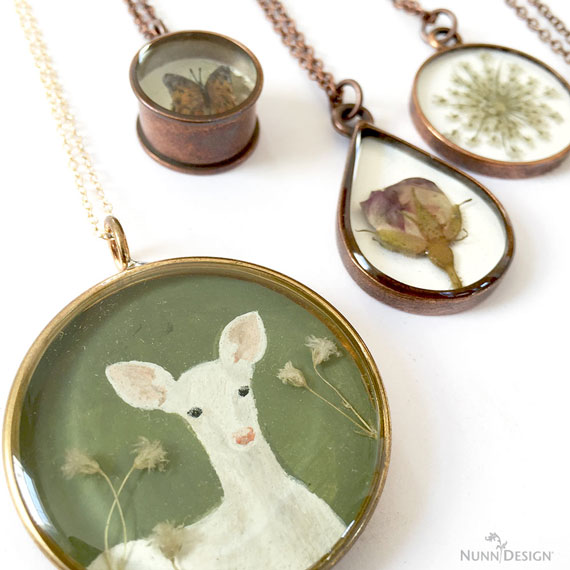 ---
Meadow & Fawn Landscape Creations
Here are some other landscape creations that Alexis created. See why I instantly fell in love with her work?
Visit her website to shop: www.meadowandfawn.com
Follow Meadow and Fawn on Instagram: @meadowandfawn
---
Shop Nunn Design Wholesale
Nunn Design has been supplying jewelry artists with findings for over 20 years. Shop wholesale jewelry findings for creative jewelry makers.
Shop Nunn Design!
---
How to Purchase Wholesale?
If you are interested in becoming one of the many designers who trust their jewelry to Nunn Design Findings, please join us by registering to become one of our wholesale customers!
Please visit our Where to Buy Page for a listing of online stores that sell Nunn Design Findings retail.
---

If you enjoyed reading this post, please subscribe to our blog. Here are 10 Reasons Why to Subscribe and a place to do so!