I have always been a big fan of shadow boxes. I love the idea of gathering my treasures and displaying them in artistic ways. This fascination with shadow boxes was my inspiration behind this tutorial.
I also cover within this tutorial how to colorize the Nunn Design Brass Stampings with Nunn Design Sealant and PearlEx Mica Powders. These steps are totally optional, but the results of seeing the color pop once embedded into the shadow box frame makes it a step worth doing. I hope you enjoy!
---
Supplies Needed:
Brass Stampings
PearlEx Mica Powders
Nunn Design Sealant
Crystal Clay-Black
Nunn Design 2-Part Resin Kit
Open Bezel Channel Deep Large Circle
Flat Tag Grande Circle Single Hole
Others:

Wet-wipes
Toothpick or headpin
Zip-lock bags
Tools:

Paint Brush
Glass of water to rinse paintbrush
Flush Cutters
---
Learn How:
Step 1:
Select a Brass Stamping of choice that will fit nicely within an Open Bezel Channel Deep Large Circle. If the stamping is too large, cut with a pair of flush cutters to make fit.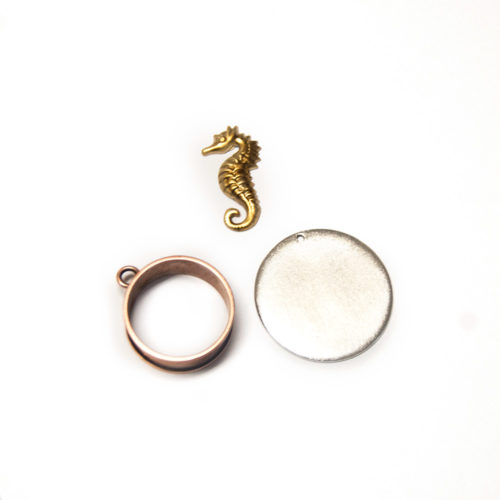 ---
Step 2:
Clean with a wet-wipe a brass stamping of choice using a wet-wipe or soap and water. This will help release any of the oils that might be on the brass stamping.
---
Step 3:
Pour onto a small zip-lock bag a wee bit of Nunn Design Sealant. Sprinkle into the sealant a PearlEx Powder color of choice. Stir together until blended using a toothpick. Using a paintbrush, paint onto your brass stamping some of the PearlEx Powder and sealant mixture. Let dry for 10 minutes.
---
Step 4:
Follow the manufacturer's instructions for the handling and mixing of the Epoxy Clay-Crystal Clay. While wearing gloves, pinch off two equal blueberry sized balls of Part A and Part B and blend together fully until the clay is no longer marbled and uniform in color. You have approximately 90-120 minutes of working time before the clay starts to harden, so take your time. Once the clay is thoroughly mixed, remove your gloves to make it easier to work with the clay.
---
Step 5:

Roll the ball of the Crystal Clay in the palm of your hands until it is smooth.  Place the Open Bezel Channel Deep Large Circle on top of the Flat Tag Grande Circle, making sure that the hole of the tag and the loop of the bezel are lined up on opposite sides. This will allow you to dangle charms off the bottom of the shadow box when assembling. Press the mixed Crystal Clay into the Open Bezel Channel connecting it to the Flat Tag and outside walls of the bezel. Press until the clay is flat inside the bezel.
Lay into the center of the open bezel the Brass Stamping from steps 1-3 and press it down until embedded fully into the clay. If it is not, resin will seep underneath the brass stamping and cause air bubbles to form within your resin. If you have too much clay, remove the clay from the open bezel, pinching off a wee bit, roll and pat into the open bezel again.
---
Step 6:
If you have any Crystal Clay that has seeped out the bottom of the open frame or is on the sides of the flat tag, take a minute to clean this up using a wet-wipe. The clay will dry rock hard and be very difficult to remove, so take your time and clean as you go.
---
Step 7:
Read the resin instructions for safety concerns regarding the Nunn Design Resin.
When I work with resin, I always:
Place a large plastic bag over my work surface and tape it down.
I make sure I have ventilation in my workroom.
I wear gloves.
I wear glasses (readers because I can't see anymore. Plus it protects my eyes!).
I have a pile of wet wipes handy.
This is a great blog post that covers 20 Habits for Successfully Using Nunn Design 2-Part Epoxy Resin. Even if you are a seasoned resin mixer, this might be worth a read.
You can also watch this great video on How to Mix Nunn Design Resin
---
Step 8:
Place one cup (included in the Nunn Design Resin Kit) onto your table. For curing purposes, it is very important that the resin be an exact 1 to 1 ratio of Part A and Part B. I suggest getting your eyes level with the resin so you can see the lines on the measuring cup.
Pour Part A of your resin kit up to the ½ fluid ounce mark on your measuring cup.
Pour Part B of your resin kit into the same cup until it is filled to the 1 fluid ounce mark. It is important to pour Part A first and then Part B. It is some chemical thing about the part B bein g heavier or something.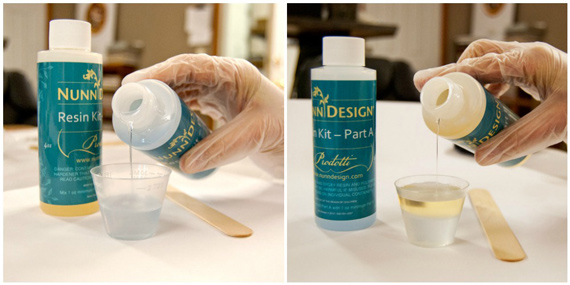 ---
Step 9:
Set your timer for 2 minutes. Using the stir stick from your kit (a popsicle stick or coffee stir stick will work great too), slowly and carefully stir your resin scraping the sides as you stir. Stir for the full 2 minutes. After 2 minutes, scrape both sides of your stir stick on the edge of your resin filled cup.
---
Step 10:
Using a stir stick, start first by drizzle the mixed Nunn Design Resin over the colorized brass stamping that is embedded into the Crystal Clay. If you are going to have any troubles with bubbles, more than likely it will be around this area if the brass stamping isn't fully embedded. If bubbles arise, press down firmly onto the brass stamping so it is even more embedded into the Crystal Clay. Use a toothpick to gently move the bubbles to the side to pop them. Continue to drizzle the resin into the open bezel until it is ¾ of the way filled. Using a toothpick, poke gently within the resin checking to see if there are any air bubbles beneath the surface. If there are, hopefully they will rise to the surface and you can remove them. Breathing on the resin will make the air expand and pop.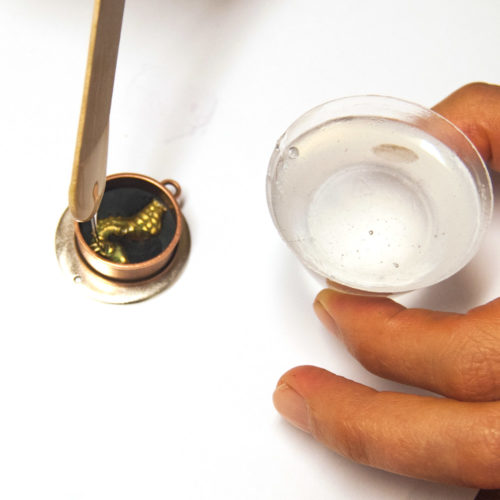 ---
Step 11:
Drizzle a little more resin into the open bezel until your resin is nicely domed. Let the resin cure for up to 72 hours before assembling. During the curing time, visit the piece often to double check that no air bubbles have decided to make an appearance. I know, I know, it is a hassle, but resin takes time to off gas-so bubbles do happen. The sooner you accept this about this medium, the happier you will be with the results.
---
Watch a Video:
If you would like to see me create a shadow box pendant, I shot this video with Beadaholique late last year.
---
Shop the Supplies Wholesale!
---
Shop Nunn Design Wholesale
Nunn Design has been supplying jewelry artists with findings for over 20 years. Shop wholesale jewelry findings for creative jewelry makers.
Shop Nunn Design!
---
How to Purchase Wholesale?
If you are interested in becoming one of the many designers who trust their jewelry to Nunn Design Findings, please join us by registering to become one of our wholesale customers!
Please visit our Where to Buy Page for a listing of online stores that sell Nunn Design Findings retail.
---

If you enjoyed reading this post, please subscribe to our blog. Here are 10 Reasons Why to Subscribe and a place to do so!