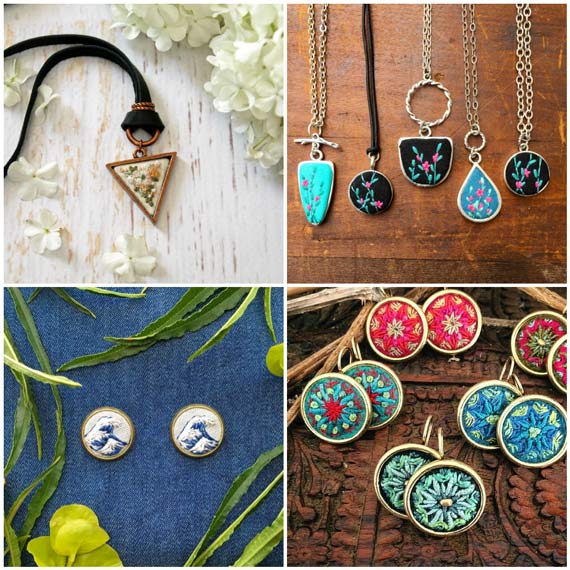 It is so much fun to explore jewelry created by the hands of wonderful embroidery artists! Here are some pieces to inspire you.
---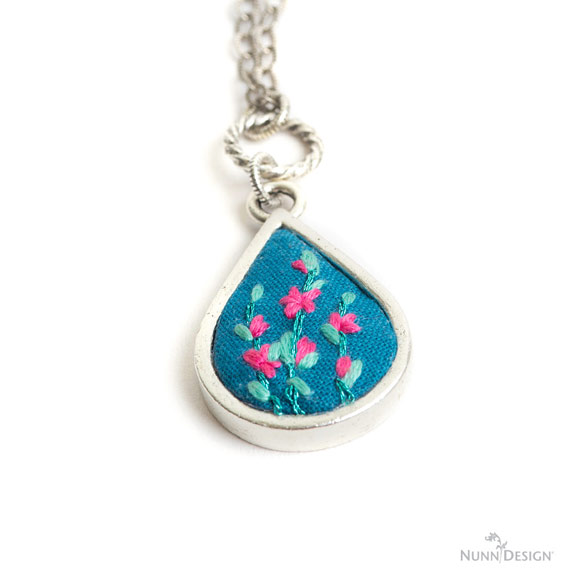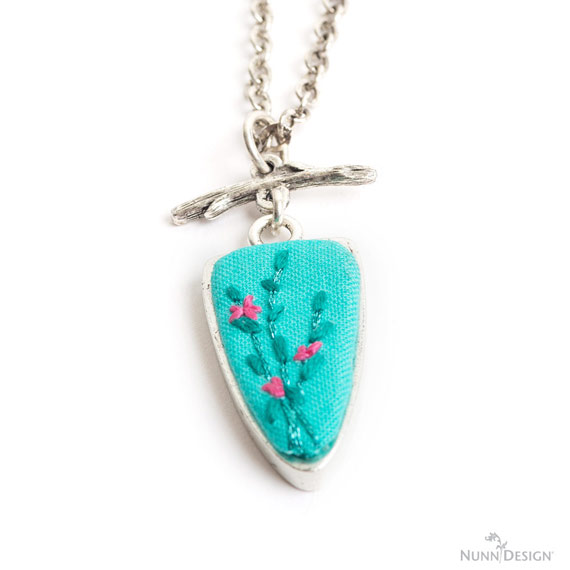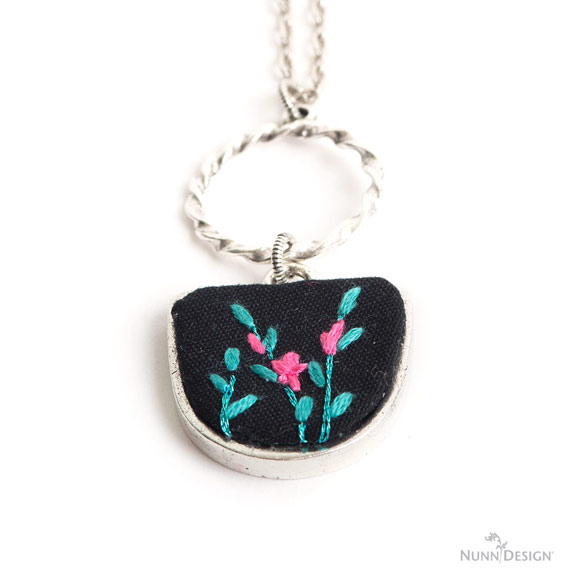 I have enjoyed seeing Jessica Long of Nameste Embroidery create amazing things on Instagram/@nameste_embroidery. Jessica has several time-lapse videos of herself working and it easily puts me in a trance.
Jessica offers kits, pdf's, ready to ship embroidery items and she can do custom work. To learn more about Jessica and her company, visit her at Namaste Embroidery.
---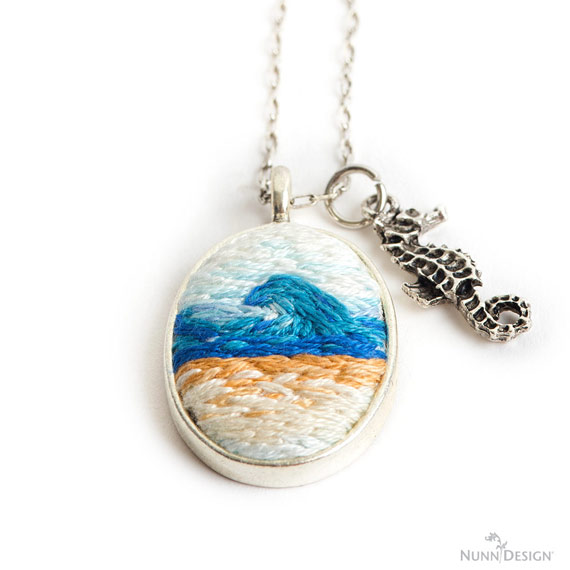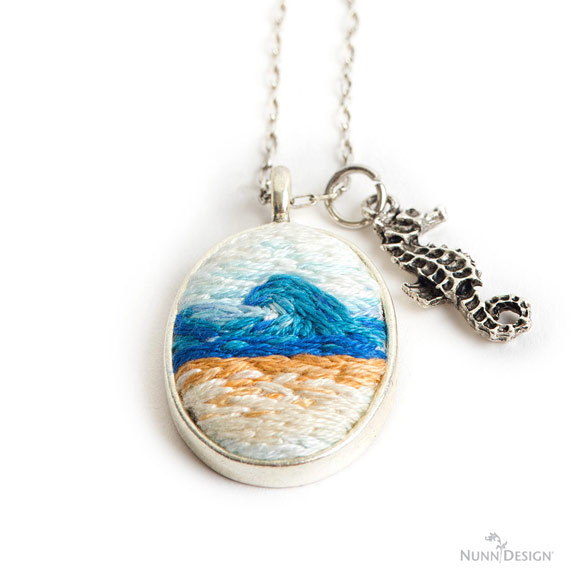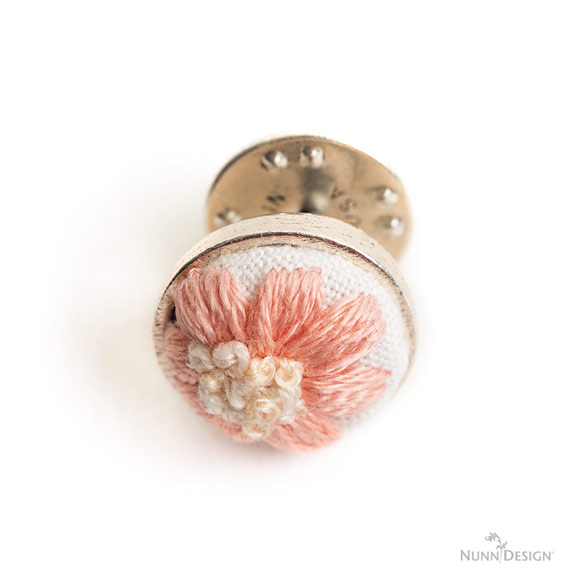 Jessica Kantrales is another embroidery artist I have enjoyed following on Instagram/@mcarolynandco. Jessica will soon have these pieces available on her Etsy shop for sale.
---
Jessica Richter creates amazing embroidered jewelry pieces. She does stunning custom portraits of pets!
---
Barbara Schär of Stitching Wonderland, in Switzerland, combines her passions for embroidery and handmade felting to create her beautiful work. Check out her instagram/@stitchingwonderland for all her embroidery goodness!
---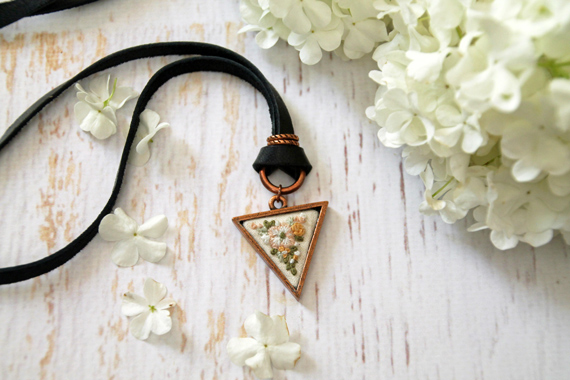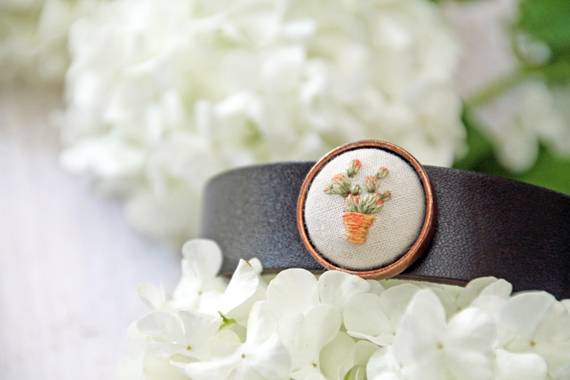 Sarah Buckley of Itty Bitty Bunnies is "a busy mom, with a tender heart and a passion for color. I love artwork featuring flora and fauna. I believe in kindness, above all." Look at the beautiful flora she embroidered into some Nunn Design bezels! Check out more of her work on her instagram/@ittybittybunnies!
---
Past blog posts:
Be inspired with other blog posts on embroidery and fiber inspired jewelry creations.

https://www.nunndesign.com/embroidery-jewelry-inspiration/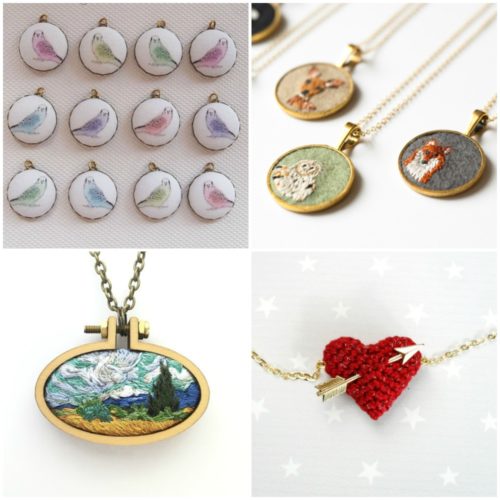 www.nunndesign.com/textile-fiber-jewelry-inspiration/

www.nunndesign.com/crochet-jewelry-inspiration/

https://www.nunndesign.com/hand-crochet-jewelry/
---
Shop Nunn Design Jewelry Kits for Embroidery:
Nunn Design Jewelry Kits for Embroidery are designed for the artisan with limited jewelry making experience. The Grande (31mm), Large (21mm)and Mini (12mm) Bezels are sold with a jumpring attached, making assembly fast and easy. No additional jewelry making tools are required.
Shop Supplies RETAIL:
shop now! > retail embroidery kits
Shop the Supplies WHOLESALE:
shop now! > wholesale embroidery kits
---
Tell Us!
Do you have an embroidery artist that you find drool worthy? Let me know at becky@nunndesign.com.
---
Shop Nunn Design Wholesale
Nunn Design has been supplying jewelry artists with findings for over 20 years. Shop wholesale jewelry findings for creative jewelry makers.
Shop Nunn Design!
---
How to Purchase Wholesale?
If you are interested in becoming one of the many designers who trust their jewelry to Nunn Design Findings, please join us by registering to become one of our wholesale customers!
Please visit our Where to Buy Page for a listing of online stores that sell Nunn Design Findings retail.
---

If you enjoyed reading this post, please subscribe to our blog. Here are 10 Reasons Why to Subscribe and a place to do so!