Last summer I began an obsession with embroidery. In particular, embroidery works within jewelry. This trend is rising as I watch Instagram followers rise into the 100,000's for several of the embroidery artists I'm following.
I started doing embroidery with my girls, and it is super fun. It is inexpensive to get started and something that I can easily throw into my bag when heading out on a road trip. Hopefully I'll have something to show, but I can promise it is definitely a beginner learning a new craft.
---
Be Inspired!
Here are some not so newbies to the embroidery world. I hope their pieces inspire you.
I have enjoyed following and getting to know Jessica Kantrales from MCarolynandCo. Her work is lovely.
---
Jessica created these pieces using Nunn Design Findings. These pieces will soon be up on her Etsy site. Follow Jessica on Instagram as  @mcarolynandco or on Etsy.
---
I am crazy over Irem Yazici of Baobap's work (along with 113K other followers!)
Irem of Baobap on Instagram: https://www.instagram.com/_.baobap._/
Baobap website: http://baobap.bigcartel.com/
---
Claire Moynihan is a textile artist out of the UK stunning the world with her 3-d "bug ball" embroidery work. Love these!!!
https://www.clairemoynihan.co.uk/detailed-insect-images/
---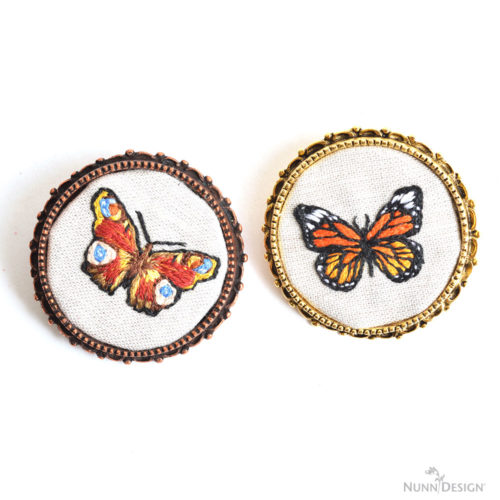 I have included Jessica of Thimble Thistle in previous posts. What is there not to love about this embroidery artist's work!
Thimble Thistle on Instagram: https://www.instagram.com/thimblethistle/
Thimble Thistle's website: http://www.thimblethistle.bigcartel.com/
---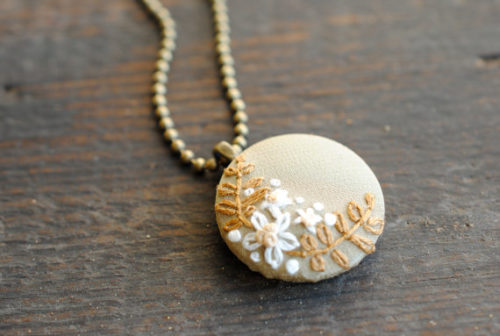 Here are some additional fun pieces from Etsy artist Abbey Vanderlin of Something Old & Something New.
---
I love this Russian artist's work!
Website: https://www.livemaster.ru/ullaseasons
---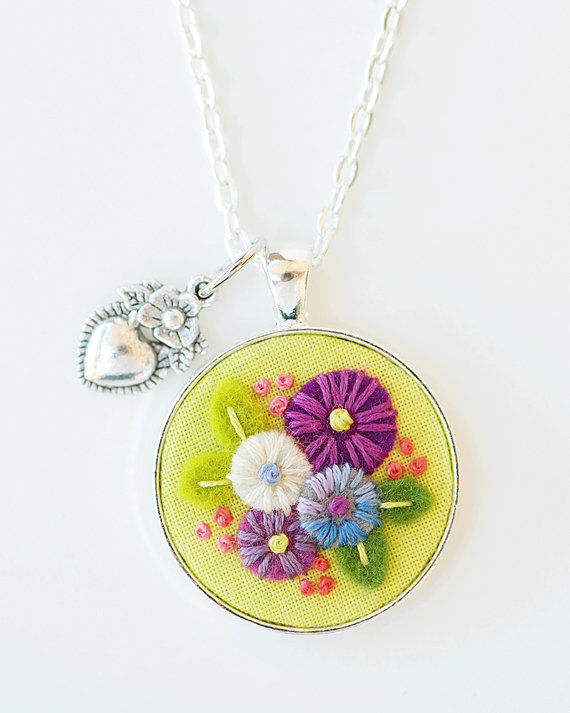 Anne, on her Etsy site Lolli And Grace, has her pulse on vibrant! Love these pendants!
https://www.etsy.com/shop/LolliAndGrace?ref=l2-shopheader-name
---
This Etsy artist out of the UK incorporates beads and wire into her work. Visit Humayrah at The Olde Sewing Room.
---
Learn How!

I came across this tutorial showing how to stitch up your piece and place it into a bezel on So September's blog. Our Crest Tags would be great for this! To see which of our Crest Tags fit within each size bezel, download our Nunn Design Crest Tag Cheat Sheet.
---
Lisa Jordan of Lil Fish Studios has a downloadable pdf that teaches you how to make felt stones that are then embroidered.
---
Past blog posts:
This isn't my first post to gush about fiber artists. You might also be interested in these past blog posts!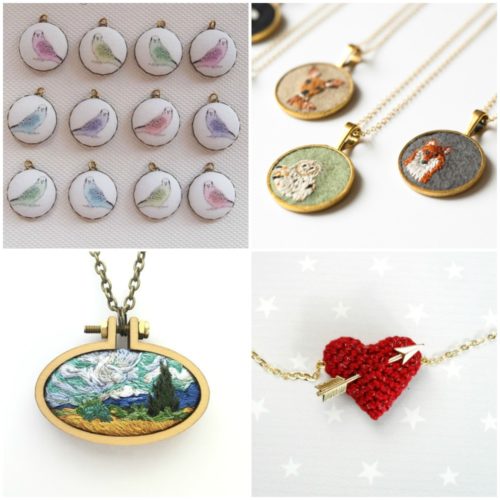 www.nunndesign.com/textile-fiber-jewelry-inspiration/

www.nunndesign.com/crochet-jewelry-inspiration/

https://www.nunndesign.com/hand-crochet-jewelry/
---
Shop Nunn Design Jewelry Kits for Embroidery:
Nunn Design Jewelry Kits for Embroidery are designed for the artisan with limited jewelry making experience. The Grande (31mm), Large (21mm)and Mini (12mm) Bezels are sold with a jumpring attached, making assembly fast and easy. No additional jewelry making tools are required.
Shop Supplies RETAIL:
shop now! > retail embroidery kits
Shop the Supplies WHOLESALE:
shop now! > wholesale embroidery kits
---
Tell Us!
Do you have an embroidery artist that you find drool worthy? Let me know at becky@nunndesign.com.
---
Shop Nunn Design Wholesale
Nunn Design has been supplying jewelry artists with findings for over 20 years. Shop wholesale jewelry findings for creative jewelry makers.
Shop Nunn Design!
---
How to Purchase Wholesale?
If you are interested in becoming one of the many designers who trust their jewelry to Nunn Design Findings, please join us by registering to become one of our wholesale customers!
Please visit our Where to Buy Page for a listing of online stores that sell Nunn Design Findings retail.
---

If you enjoyed reading this post, please subscribe to our blog. Here are 10 Reasons Why to Subscribe and a place to do so!