Chainmaille has taken some artistic turns since its earliest form of metal armor dating back to the 4th century. http://en.wikipedia.org/wiki/Mailarmour.
Maybe it is the popularity of the film trilogy The Lord of the Rings that has brought this ancient technique to the peak of its popularity today. Maybe it is the simplicity of opening and closing jump rings that has made this technique so accessible to many. This technique is a trend that is showing up again and again. So, shall we join in and go link-de-link with the rest of them? Here are 9+ Chainmaille Inspirations to get you started!
---
Byzantine Sunburst Necklace

Designer: Colin Mahler, Beaducation
Colin alone has 13 inspiring free video projects over on the Beaducation website! This is a great way to watch and learn some chainmaille techniques! Here are some of my other favorites:
---
Chainmaille Earrings

Designer: Colin Mahler, Beaducation
---
Daisy Maille Chain

Designer: Colin Mahler, Beaducation
To see all of the videos that Beaducation has to offer on chainmaille, link to be inspired!! Beaducation: Chainmaille Videos
---

Credit: Fusionbeads.com
Some people learn best from watching videos, while others like to have printed instructions to follow. Our friends over at Fusionbeads.com have 11 free patterns that you can download and learn from. There is even a tutorial on how to open and close a jumpring! Learn how to make a Shaggy Loops Beaded Chainmaille or a Japenese 12-in-2 Chainmaille. The instructions are clear and easy to understand.
---

Credit: Thebeadinggem.com
Pearl, from the Beading Gem's Journal, did a wonderful review on a new book titled: Chain Mail & Wire Reimagined by Karen Rakoski and Barbara DeYoung. Pearl describes the book as "a real game changer. The authors, who are both instructors, teamed up conventional chain mail with imaginative wirework. The combination is simply amazing."
There are 18 inspiring projects within this book. To see some of the projects, visit Pearl to read her full book review: http://www.beadinggem.com/2015/01/book-review-chain-mail-and-wire.html
---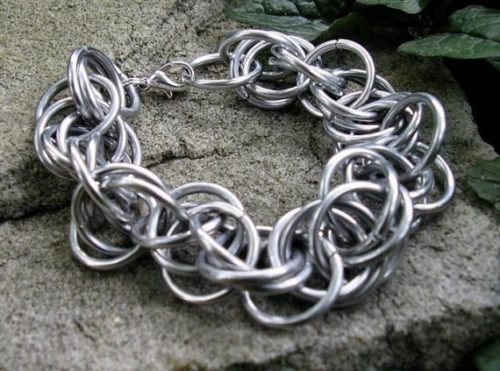 Credit: Deepshade
I love this example by Etsy artist Deepshade. It is chunky and big, yet just the right balance of chunky and big.
---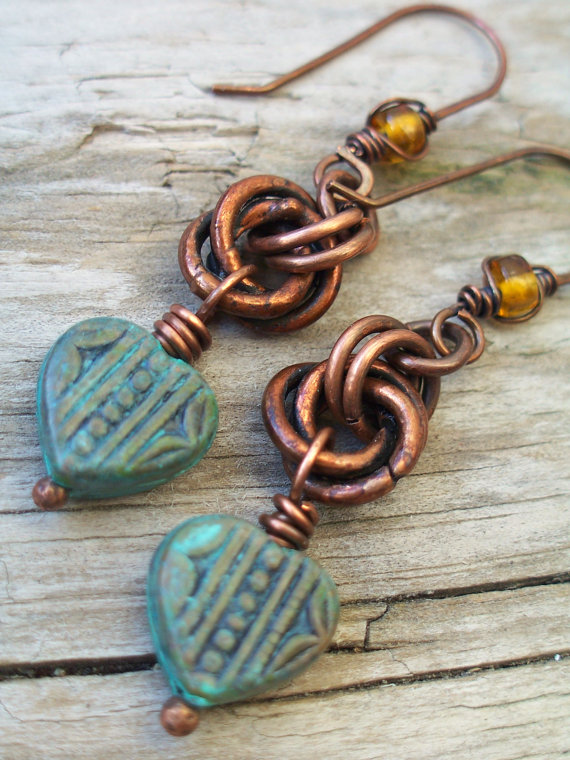 Designer: Keirsten Giles of Lune Designs
Add a little wire wrapping and fun colored beads and you bring in yet another flair for some basic chainmaille techniques.
---

Designer: Diana Ferguson Jewelry
Here is another great example of Coiled Chainmaille. I love the thought of the potential movement of this bracelet while you wear it.
Once you have practiced a couple of the chainmaille techniques, head on over to Pinterest and be even more inspired! Pinterest: Chainmaille Jewelry
---

Nunn Design has several jump rings styles and sizes to select from. I've fully inspired myself to start playing!
Shop our jump ring collection here: Nunn Design Jump rings.
---
Shop Nunn Design Wholesale
Nunn Design has been supplying jewelry artists with findings for over 20 years. Shop wholesale jewelry findings for creative jewelry makers.
Shop Nunn Design!
---
How to Purchase Wholesale?
If you are interested in becoming one of the many designers who trust their jewelry to Nunn Design Findings, please join us by registering to become one of our wholesale customers!
Please visit our Where to Buy Page for a listing of online stores that sell Nunn Design Findings retail.
---

If you enjoyed reading this post, please subscribe to our blog. Here are 10 Reasons Why to Subscribe and a place to do so!