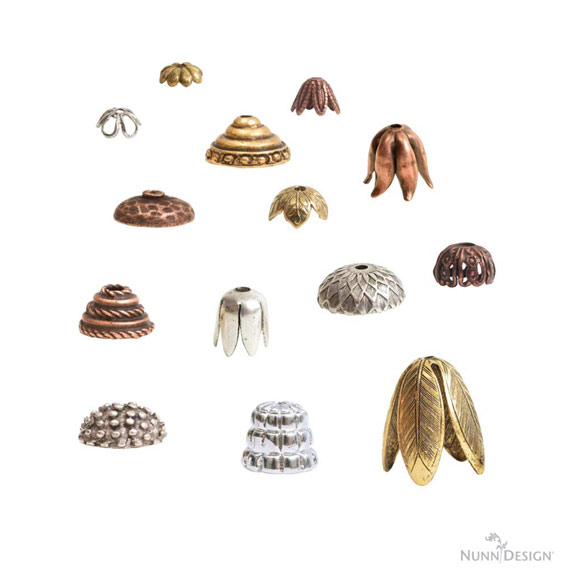 Thank you for joining us weekly for our "Let's Talk" product features. This final product highlight focuses on our jewelry findings collection of beadcaps.
Beadcap findings have been in our line since the beginning and it is still a shock to see how they continue to sell!
Let's get started! Click on any of the images to link to more detailed information and to shop the Nunn Design Website.
---
Brass Beadcaps
Beadcaps are metal stamped and formed from sheets of brass in the USA. Although the brass is imported, we are able to state that these are all made in the USA due to the steps required to alter the brass during the manufacturing process.
All are plated in the USA with imported precious imported metals; copper, 24k gold and .999 silver.
Once quality controlled, Beadcaps are counted and packaged into easy to purchase quantities.
Holes for Beadcaps are designed to fit Balled Headpin and Headpins that we offered within the Nunn Design Collection.
---
Let's Talk Series:
We hope that you will use this series as a resource when preparing the copy to describe your own jewelry made from Nunn Design Findings. It is becoming more and more important to be completely transparent with how and where your jewelry is being made. Consumers want to be aware of what they are purchasing and who they are supporting. It is our jobs to provide correcting information and descriptions.
To review other posts in this series, here is what we have talked about:
Thanks again for joining us!
---
Shop Nunn Design Beadcaps
---
Shop Nunn Design Wholesale
Nunn Design has been supplying jewelry artists with findings for over 20 years. Shop wholesale jewelry findings for creative jewelry makers.
Shop Nunn Design!
---
How to Purchase Wholesale?
If you are interested in becoming one of the many designers who trust their jewelry to Nunn Design Findings, please join us by registering to become one of our wholesale customers!
Please visit our Where to Buy Page for a listing of online stores that sell Nunn Design Findings retail.
---

If you enjoyed reading this post, please subscribe to our blog. Here are 10 Reasons Why to Subscribe and a place to do so!