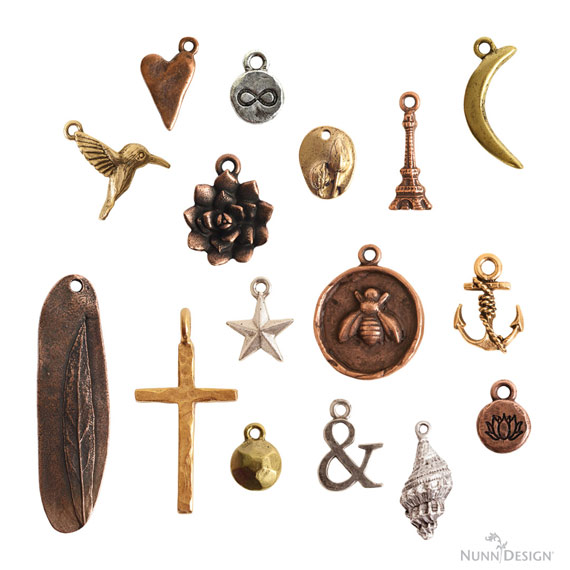 Charms are emotionally a very satisfying finding to design with because of the symbolism that is communicated in an artful way.
You can tell the success of a category within the Nunn Design Findings Collection based on the quantity of choices. Based on the quantity of options that you see here, charms are a very big category for us. The reason is simple. You all buy a heck of a lot of them!!!
Let's talk charms. Here are some fun facts about the manufacturing process of the charms offered at Nunn Design:
Nunn Design Charms are cast in the USA with imported lead-free pewter.
Charms are cleaned and plated in the USA with precious imported metals. Copper, 24k gold and .999 silver.
Charms are quality controlled, counted and packaged into easy to purchase quantities.
We think about not only the charms, but how you are going to design with them. Holes and loops are designed to fit the many jumprings offered within the Nunn Design Collection. Yet another detail that we think about, so you don't need to.
Let's explore the options within the Nunn Design line-up of charms! Click on any of the charm images to link to more detailed information and to shop the Nunn Design Website.
---
Bird Charms
---
Sea Charms
---
Heart Charms
---
Flower Charms
---
All Things French Charms
---
Animal Charms
---
Bee Charms
---
Celestial Charms
---
Cross Charms
---
Lucky Charms
---
Plant Charms
---
Medallion Charms
---
Jeweled Charm & Faceted Drops
---
Initial Charms
---
Let's Talk Series:
We hope that you will use this series as a resource when preparing the copy to describe your own jewelry made from Nunn Design Findings. It is becoming more and more important to be completely transparent with how and where your jewelry is being made. Consumers want to be aware of what they are purchasing and who they are supporting. It is our jobs to provide correcting information and descriptions.
To review other posts in this series, here is what we have talked about:
Are there charms that you would like for Nunn Design to create? Please let us know! We'd love to explore other charm options to offer!
---
Shop Nunn Design Charms
---
Shop Nunn Design Wholesale
Nunn Design has been supplying jewelry artists with findings for over 20 years. Shop wholesale jewelry findings for creative jewelry makers.
Shop Nunn Design!
---
How to Purchase Wholesale?
If you are interested in becoming one of the many designers who trust their jewelry to Nunn Design Findings, please join us by registering to become one of our wholesale customers!
Please visit our Where to Buy Page for a listing of online stores that sell Nunn Design Findings retail.
---

If you enjoyed reading this post, please subscribe to our blog. Here are 10 Reasons Why to Subscribe and a place to do so!