This is Part 3 in a series of posts highlighting the top selling Nunn Design Jewelry Findings during this global pandemic.
Part 1, we highlighted the top selling:

Bezels
Open Frame Bezels
Beads
Part 2, we covered the top selling:

Wire Frames
Hoops
Flat Tags
Understanding what makes these jewelry findings become a "hit" is very important. If you aren't clear on why some jewelry designers are moving the needle, you could potentially purchase inventory that doesn't fit your customer base. Here is a quick recap of WHO and WHY:
---
WHO are these jewelry findings for?
The Nunn Design customers who are thriving have:
created a strong online presence.
built connection and trust within their communities.
tested ideas, explored various designs, and elicited feedback.
created just the right amount of tension to motivate buyers.
the confidence to try new things.
known when to pivot in a new direction.
WHY are certain Nunn Design findings selling?
Jewelry findings that are safe!
Jewelry findings with just the right MAYA, Most Advanced Yet Acceptable!
Jewelry findings that are rich in look and feel, yet affordable.
Earrings are what people can see on Zoom Meetings!
Jewelry Findings that are right on trend.
In Part 3, let's jump into Jumprings, Toggle Rings & Bars, and Charms.
You can download a copy of the Nunn Design Catalogue. As you scroll through the pdf, click on any of the items that we are showing in this post as "HOT SELLERS" and it will link you right to our Nunn Design Website.
---
Category #7! Jumprings, Lobster Clasps & Headpins!
It is fairly safe to say, Nunn Design Jumprings are a staple and on almost every order. Our collection of jumprings have interesting texture, are USA made, high quality and match the plating of all of our collection of findings.
If you really want to dive deep into which jumprings fit Nunn Design Chain, please download and explore our Jumpring Cheat Sheet! This took us a crazy amount of time to put together, so I hope you can benefit from it!
For this category, here is the order of "best sellers" within our Lobster Clasps and Headpins.
---
Category #8! Toggle Rings & Bars!
As I have been pulling orders over the past five months, it has been really fun to see this category still going strong. I think this is due to the popularity of the Toggle Rings being used as connectors, and the Toggle Bars being used on beaded bracelets.
---
Category #9! Charms!
Oh boy, this is a big category to cover! Again, this category overall is very strong, so I'm just highlighting the very top sellers of the various themes. Here goes!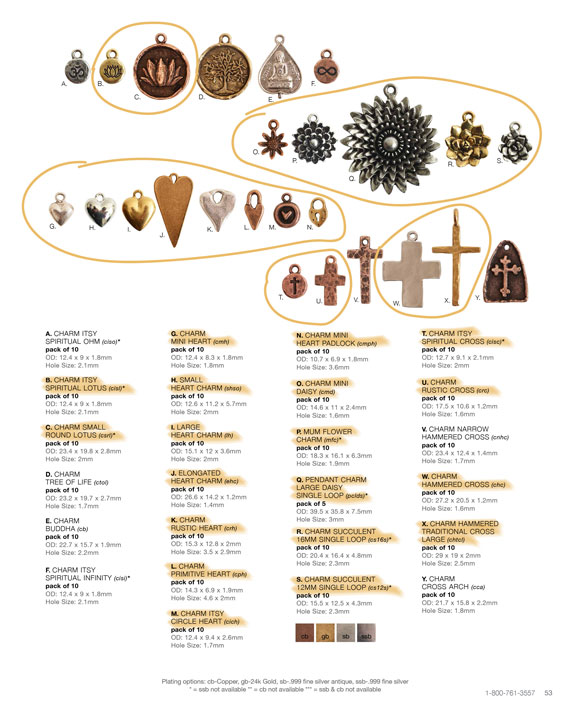 ---
Make sure to watch for our upcoming posts in this series as we discuss other categories of products within the Nunn Design Findings Collection.
---

If you enjoyed reading this post, please subscribe to our blog. Here are 10 Reasons Why to Subscribe and a place to do so!