Nunn Design's 2-Part Resin and Epoxy Clay, a two-part epoxy clay, are two of the main techniques that we explore and teach here at Nunn Design.
Here are 7 different ways that you can create unique pieces of wearable art with these two mediums.
---
1. Texturized Resin (that is cut/punched and stitched on)
This technique came about during some creative play time. Nunn Design's 2-Part Resin has a window of approximately 30-45 minutes. After that, the resin starts to set-up and become so thick that it is no longer usable. I hate to see the resin go to waste, so I poured it out onto a texturing pad to see what would happen. Well, pretty cool stuff happened! 
Learn the Techniques!
Shop Supplies:
Shop Supplies Wholesale:
---
2. Texturized Resin within an Open Back Bezel (using a mold)
This tutorial is another one of those fun techniques discovered while trying not to panic about my "resin window" closing and the mixture becoming too thick to use. It involves making and creating your own mold using organics, such as leaves, and pouring the resin into open back bezels that are placed onto the mold's surface texture.
Learn the Techniques!
---
3. Sculpted Relief Epoxy Clay with Colorized Resin
I love this technique. There are several steps and this technique can seem a bit overwhelming, but the finished jewelry pieces are so stunning. I find that I do this technique in batches. A lot of times, I will have extra bits of Epoxy Clay that I will just press into a Nunn Design Bezel, press into one of my many molds, then leave them to cure. After a while, all of these pendants start to amass in one of my "parts and pieces bins" and I'll pull them all out and pour some almost left-over curing colorized resin onto the top of them. Again, a great technique to just do, but also a great technique for using up excess bits of Epoxy Clay and Nunn Design 2-Part Resin before it sets-up and is wasted.
Learn the Techniques!
---
4. Mosaic Cut Resin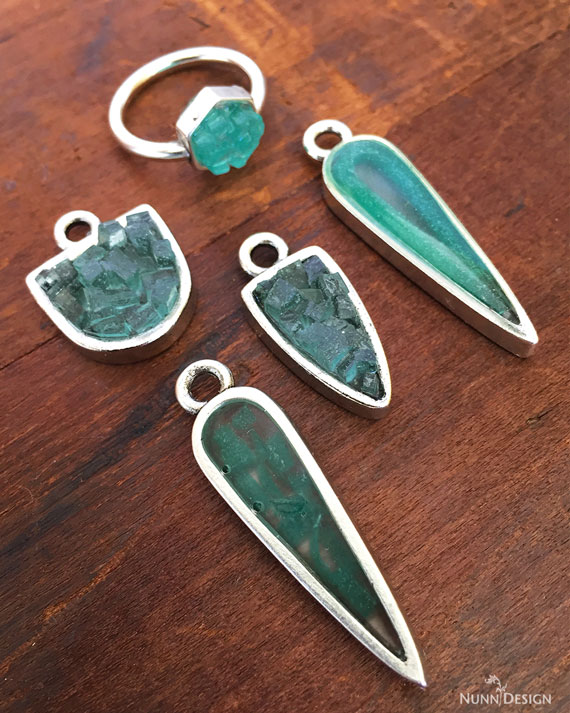 Alright, I sense a theme here. Maybe we should have titled this post "how to use up junk before it is trash." This TOO is a technique that came about from using extra bits of almost to be wasted resin. If you have worked with resin before, you often have some leftover resin you don't want to waste. This tutorial will help your resin be "good to the last drop."
Resin, when it is still curing, (6 hour mark) is very soft and can easily be cut with scissors and even rolled. Create interesting mosaics with the excess resin that would have otherwise been sent off to the trash!
Learn the Techniques!
---
5. Colorized Resin with Transfer Sheets
Another Nunn Design 2-Part Resin technique that involves a couple steps, but the results are amazing.  Another technique that requires multiple pours of resin, but great for creating unique one of a kind jewelry.
Learn the Techniques!
---
6. Embedding Ball Chain into Epoxy Clay
There are a lot of tutorials sharing the many ways to incorporate ball chain into Epoxy Clay to create unique mosaic styled pieces like these samples. The possibilities are endless!
Learn the Techniques!
---
7. Epoxy Clay with Mica Flakes and Resin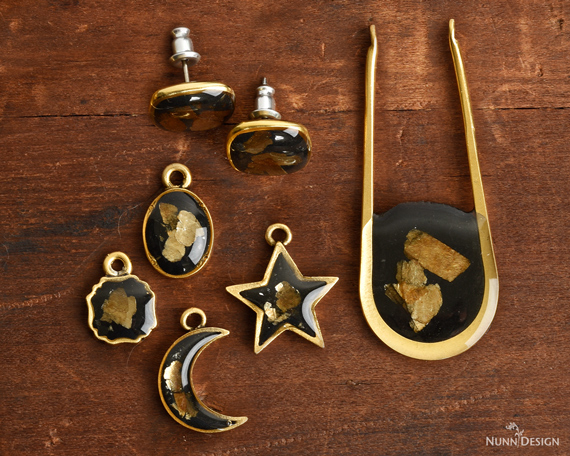 This technique is fast because you don't need to let the Epoxy Clay cure prior to embedding the Mica Flakes and pouring on the Nunn Design 2-Part Resin. 2 steps, but rich results!
Learn the Techniques!
---
Shop Wholesale Nunn Design Findings
---
Shop Nunn Design Wholesale
Nunn Design has been supplying jewelry artists with findings for over 20 years. Shop wholesale jewelry findings for creative jewelry makers.
Shop Nunn Design!
---
How to Purchase Wholesale?
If you are interested in becoming one of the many designers who trust their jewelry to Nunn Design Findings, please join us by registering to become one of our wholesale customers!
Please visit our Where to Buy Page for a listing of online stores that sell Nunn Design Findings retail.
---
If you enjoyed reading this post, please subscribe to our blog. Here are 10 Reasons Why to Subscribe and a place to do so!